The Chiefs took on the Bucs in a fun Sunday night battle. What did we learn?
Justin Miles @justm1les
This past week, the 2-1 Chiefs took on the 2-1 Buccaneers in a highly anticipated Week 4 matchup. It was hard fought by both teams but the Chiefs were dominant from the opening kickoff.
They took the win 41-31 and advance to 3-1. After a rough week last week, we saw a lot of improvements and a lot of crucial takeaways. Let's break it down.
Starting off with the coaching… our play calling was much better this week with Andy Reid calling the majority of plays.
All of our guys came out hot and got after it. We saw a lot of 2018 like trick plays and you could tell the guys were loving it. Especially with such a young team, plays like these are huge when it comes to lightening the intensity and reminding our guys to have fun with it.
Spagnuolo dialed up the pressure on Brady and had our defense constantly running something new. It is clear we have one of the best coaching staffs in the league from an all around perspective. Our front office also earned recognition this week, as we had several rookies making an impact for us.
Patrick Mahomes had an MVP-caliber performance and looked unstoppable. He was back making ridiculous circus throws and reminded everyone that he is the best quarterback in the league. Mahomes stats, 23/37 for 249 yards and 3 touchdowns. He did throw an interception as well, but the film and scoreboard don't lie.
He also scrambled 4 times for 34 yards. Pat was electrifying and did what he does best. Mahomes will continue the season making the case for another MVP while playing on an untouchable level.
Clyde Edwards-Helaire continued his hot start racking up 92 yards on 19 carries while scoring 2 total touchdowns. CEH has been a stud thus far this season and has been doing it all. We look forward to continuing to watch him establish himself in our offense.
The Chiefs also pounded the run game with rookie Isiah Pacheco. Pacheco averaged an astounding 5.7 yards per carry with 63 yards on 11 attempts.
Pacheco continues to show promise as a workhorse back. It is clear he has an extremely high upside and will continue to improve as his snap count increases. Our running back room has been great on all aspects of the ball, they have been flying around and have proven to be an extremely vital piece to our offense.
Mahomes generously spread the ball out, completing passes to 8 different receivers.
Travis Kelce once again led the way with a dominant performance. He had 9 catches for 92 yards and a touchdown, even while being double teamed most of the game. Despite a few drops, Marquez Valdez-Scantling got involved tonight and caught 3 passes for 63 yards. JuJu Smith-Schuster also got involved, catching 5 catches for 46 yards.
Rookie Skyy Moore caught 2 passes for 31 yards and Jody Fortson caught one pass for a 10 yard touchdown. We were able to see some of the new guys establish themselves more. Overall, it was a great performance by the entire receiving core. This group will only improve as the new guys figure out the offense.
Defensively, L'Jarius Sneed paved the way with 9 total tackles and a sack. Nick Bolton was right behind him with 8 total tackles, including a tackle for a loss. Throughout the entire night, our defense only allowed 3 rushing yards. It wasn't always perfect at times but we saw a lot of great things from our guys.
We saw our secondary get involved in the physical game tonight, coming up to make tackles and big plays. With blitzes often dialed up, we seemed to be able to consistently get pressure on Brady. Our O-line gave up 3 sacks against a good D-line matchup but still played hard and blocked extremely well in the run game.
With special teams being the talk of the town last week, they showed up big for us in this one. Our kickoff team forced a fumble on the opening kick, setting us up for an early lead. Pacheco and Moore remained our returners for the week and played a much cleaner game. Arguably the hottest topic of special teams was our recent acquisition of former Jaguar kicker, Matthew Wright.
In the need of filling the role of an injured Harrison Butker, and after a failed experiment last week, the Chiefs signed Wright to step up to the plate. He came in and looked phenomenal. He went 5/5 on PATs and 2/2 on field goals hitting from 32 and 44 yards out.
With Butker likely to return next week, this is most likely the last time Wright plays for us. However, after this week's performance, he very well may earn a shot with another team.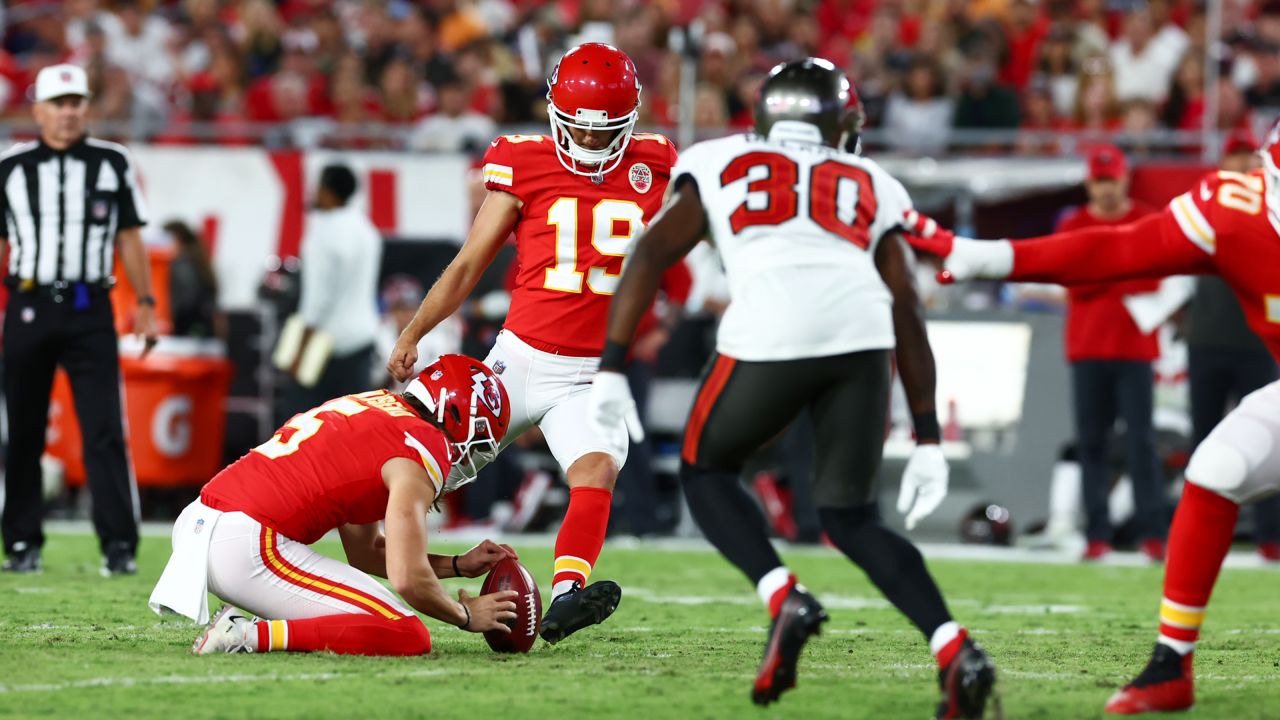 Replacement Kicker Matthew Wright.
What are some takeaways from this week's match up?
Despite a fluky game last week, the Chiefs are still the team to beat out of the AFC.
While sharing the love is great, we need to establish a solid WR1 outside of Kelce.
We need to continue to establish a solid run game and get Pacheco more involved.
We need to do whatever it takes to get Reid calling the plays.
We need to continue to dial up blitzes and get pressure on the QB
If our offense plays the rest of the season how it did in this one, no one is stopping us.
Even with a great game, we still have a very young and inexperienced team. We need to continue to work on improving but the sky's the limit for this team. We continue our Super Bowl quest next week as our rivals the Raiders come to town for a Monday Night Football match up.
All images via: Chiefs.com
Stats via: ESPN