The Chiefs Steamrolled the Bucs on Sunday Night Football 41-31
By: Chiefs fan 4 lyfe 
@Chiefsfan4lyfe
---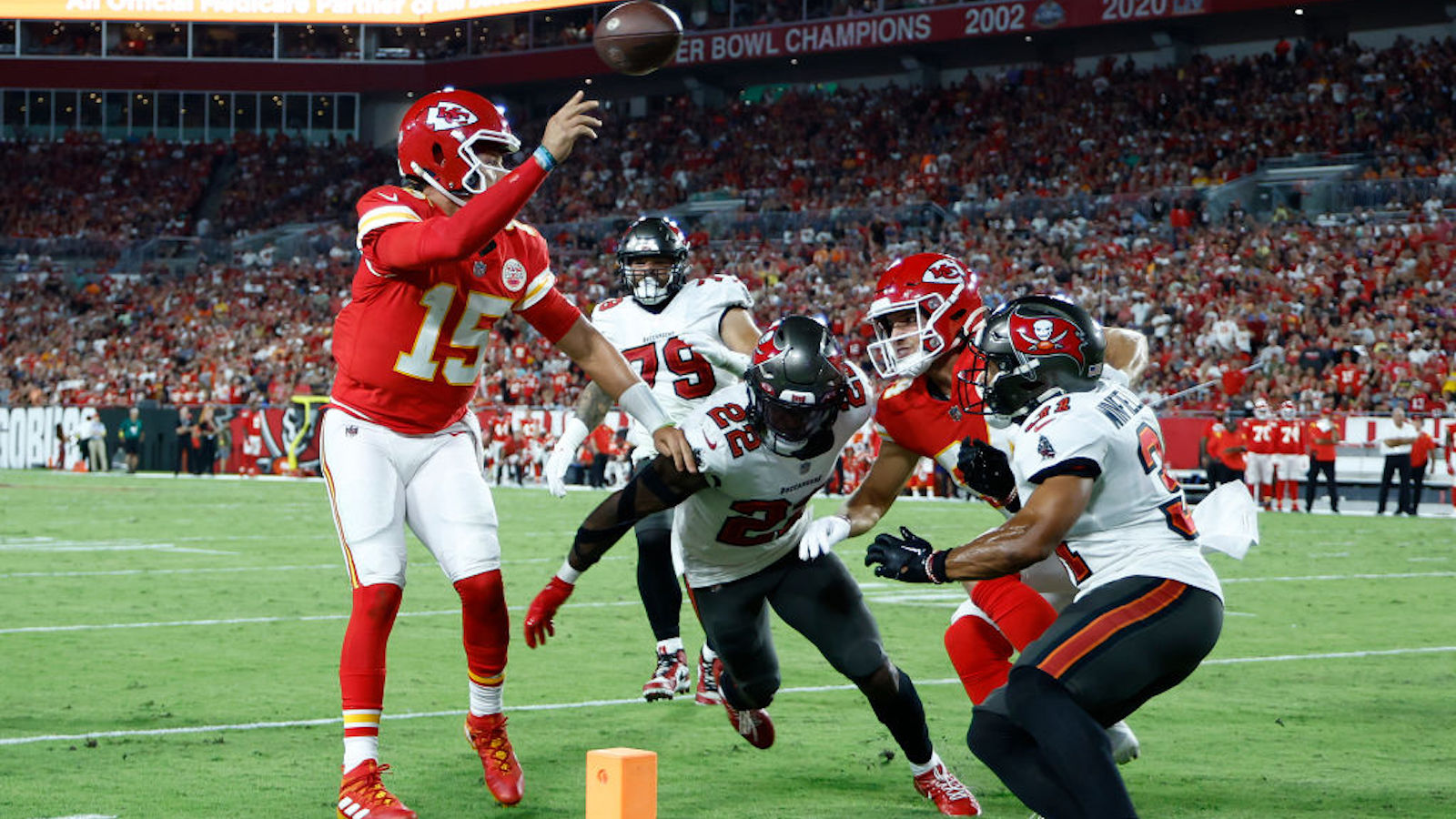 Image:Douglas P. DeFelice/Getty Images
The Kansas City Chiefs were horrible last week against the Indianapolis Colts. It was so bad and the rush from that Bieniemy article was so crazy, I couldn't even post anything. We all saw Mahomes and EB get into on the sidelines and it wasn't pretty but Chiefs Focus told y'all so for two years straight now. The Chiefs did bounce back from last week to beat Tom Brady and the Tampa Bay Buccaneers in a revenge game butt-whooping, 41-31. It was payback from Super Bowl 55 after we suffered that 31-9 defeat. Funny they had 31 like they did in the Super Bowl but put on a 40-burger on them last night as my guy, DJ Brian B Shining from Hot 103 Jamz said on Twitter last night.
There were players that stood out, especially with the snaps played and the significance of that their reps. I will list the winners and losers of week 4 for the Chiefs.
Winner: Travis Kelce, Tight End
Travis Kelce is one of the greatest to ever do it. Kelce once again put on a show Sunday, consistently hauling in catches and looking sharp catching nine passes for 92 yards and a touchdown during the Chiefs' 41-31 win over the Buccaneers Sunday night. After making a catch in the second quarter against the Tampa Bay Buccaneers, Kelce moved past Rob Gronkowski for the fifth-most career receiving yards by a tight end. The superstar tight end has lived up to that label, racking up 26 receptions, 322 yards, and three touchdowns through four games. He did appear to tweak something in the first half but promptly returned to action a few plays later. Kelce remains Patrick Mahomes' most-trusted target heading into a divisional matchup against the Raiders next Monday night.
Winner: L'Jarius Sneed, Cornerback
Coach Andy Reid said after Sunday's win over the Buccaneers that Sneed tweaked his ankle. Sneed played the game of his life against Tampa Bay, racking up a team-high nine tackles (eight solo), including that strip sack on that Brady that was the deciding factor in the game. After the hit on Brady, Tom held his shoulder and hand as if he hurt it on that sack. Reid said that he thinks Sneed will be okay. Sneed is playing at an All-Pro level and also replacing Tyrann Mathieu as the leader in the secondary and he has done an amazing job
Winner: The Duo of CEH and Pacheco, Running Back
Andy Reid is a pass-first coach, but last night, he played chess using the running game to help keep the Bucs defense guessing all night. A tough, reliable running game allows an offense to command a game's pace. In the majority of contests, it can also control the game's result. Both Clyde Edwards-Helaire and Isiah Pacheco played key roles in the game's result last night. CEH rushed 19 times for 92 yards and a touchdown while catching one pass for two yards and another score while Isiah Pacheco rushed 11 times for 63 yards and looks like he's leap-frogged Jerick McKinnon as CEH's primary backup, so a shared backfield approach between those two should continue. Edwards-Helaire finally broke out after losing touches to other rushing options from earlier in the season. Edwards-Helaire will ride this high into a favorable matchup against the Raiders. Pacheco finished with 154 all-purpose yards, gaining 63 yards on 11 carries on the ground (5.7 yards per rush) to go with 91 yards on three kick-off returns, including a long of 41 yards.
Loser: The Tom Brady loyalist/bandwagon fans
Yes, to the Bucs fans that trash-talked us after losing Super Bowl 55, to the media folks since that time even from last week. The Chiefs whopped their A$$ last night. The Buccaneers' defense came into the game as the number 1 scoring defense with 9.0 allowed but our offense put 41 points on them and the rest is history. Skip Bayless is already blaming Todd Bowles for the Bucs not getting the job done but I know if it were another way around all of y'all would say Mahomes should take accountability for his actions. C'mon now, they're ain't no favorites and the better team won.
To see that at 4:24 left in the 4th Quarter, those fans left the stadium as the Kingdom took over. I remember Mama Mahomes saying after the last Super Bowl in Tampa, she encountered fans bragging about having Tom Brady on their side and today the tables have turned. Paybacks are a mother, ain't it Bangwagoners lol.
Winner: Patrick Mahomes, Quarterback
There goes that man again. Mahomes as usual does it again but damn, that no-look free throw pass to CEH was sweet. This man is the Michael Jordan of the NFL, The Magician.
Yes, Mahomes did throw a bad pass that got picked late in the 4th (I wouldn't be shocked if Patrick was just trolling them on purpose wink wink lol) but he was great and he worked well with his teammates and coaching staff to get the job done and he was flawless throughout the game. He's MVPat.
Loser: Shaq Barrett
And yet when asked how much different the Chiefs' offensive line is now, Bucs outside linebacker Shaq Barrett spoke with confidence about the opportunity awaiting Tampa Bay's pass rush.
"I really don't think it's too much of a difference," Barrett said, laughing on a Zoom call with reporters. "I think we have a lot of favorable matchups. I think we have an opportunity to really dominate the game. … I think we have an opportunity to really impose our will as pass rushers, and edge rushers, in this game. We could really have a coming-out party. I know we had six sacks the other game (against the Saints in Week 2), but we could really have a coming-out party as an edge position group."
"I think we have an opportunity to really dominate the game."
Yeah, right pal. Barrett got owned last night and his defense who was ranked number 1 allowed 41. Someone check on Shaq for me, please.
Winner: Chiefs Coaching Staff
Like I said earlier, after last week I couldn't write an article. The EB article got so much heat because saw what happened last week but that's in the past. Last night, we all saw growth from the staff and they came together to beat this team in this important Super Bowl rematch. First off, Dave Toub's unit started off forcing a fumble to open our offense up to light up the scoreboard and backup kicker Matthew Wright did his part by making all of his field goals. Secondly, it seemed that Mahomes and Bieniemy set aside their differences to help this team win the game. It's great as long as Nagy and Big Red are part of that conversation. Teamwork makes the dream work.