How The Chiefs Defense Can Shutdown The Defending AFC Champ Trio In Week 13.
---
The 9-2 Chiefs are gearing up for an epic AFC Championship rematch with the Cincinnati Bengals in Week 13 this Sunday. Here is what I think the Chiefs must do defensively to shut down the Bengals.
Many believe that Chiefs-Bengals has the makings of another QB classic battle, as long as Patrick Mahomes and Joe Burrow are slinging the ball around. Bengals slot wide receiver Tyler Boyd gave very high praise to the two quarterbacks involved in this matchup. When asked about the blossoming rivalry, Boyd compared Patrick Mahomes and Joe Burrow to Peyton Manning and Tom Brady.
Brady and Manning were bitter rivals before Manning hung up his spikes, dueling 17 different times in the regular season and playoffs throughout their illustrious careers. Clearly the two best quarterbacks of their generation, the legendary duo seemed to produce a classic game every time they squared off, So far, the Burrow-Mahomes rivalry is off to a great start. However, war of words has already begun between Chiefs safety Justin Reid and Bengals star wide receiver Ja'Marr Chase.
The two stars exchanged Twitter jabs on Wednesday after comments made by Reid about shutting down the Bengals' pass-catchers.
Reid clarified his statement on Twitter, saying he wasn't talking bout Tee Higgins, rather meant to say Bengals TE Hayden Hurst, who he briefly confused with Los Angeles Rams TE Tyler Higbee. The mixup didn't stop Reid from doubling down, tweeting, "Nonetheless, any and everybody still getting locked up." Chase decides to respond to Reid's statement by urging him to let put money on it. Reid responded at the wager and told Chase he was "welcome for the extra motivation" before ending the back-and-forth respectfully with, "see you Sunday, champ."
Chase is expected to play on Sunday for the first time since Oct. 23. He's been out due to a hip injury, but all signs point to him playing against the Chiefs. Chase hasn't played since Week 7 of the NFL season because of the injury. Fortunately, the Bengals have gone 3-1 in his absence and the superstar wideout.
According to Chase, he didn't suffer the injury against the Atlanta Falcons in Week 7, but in Week 6 against the New Orleans Saints. The injury was officially a hairline fracture to his hip bone, which was caused by a hyperextension of his knee.
Not only was Chase's injury more serious than expected, but he also played through the pain in Week 7. Chase explained how he "couldn't really move, I was too stiff," before the Falcons game but ultimately played because "my adrenaline was hyped and I felt good playing." He racked up 130 receiving yards and 2 touchdowns in the contest, showing no issues on the field.
While the injury didn't slow him down in Week 7, playing through it ultimately made it worse. "I reaggravated it again right before the half. I felt it pop and couldn't really walk, so I sat down," said Chase, who came back out in the second half to play. Only then did the doctors find the hairline fracture in his hip and force Chase to take some much-needed time off.
The Bengals have one of the worst O-lines in the league. I believe the best way for the Chiefs to win this game to claim their revenge is by pressuring Burrow, and most of all keeping him on the sideline by winning the time of possession game.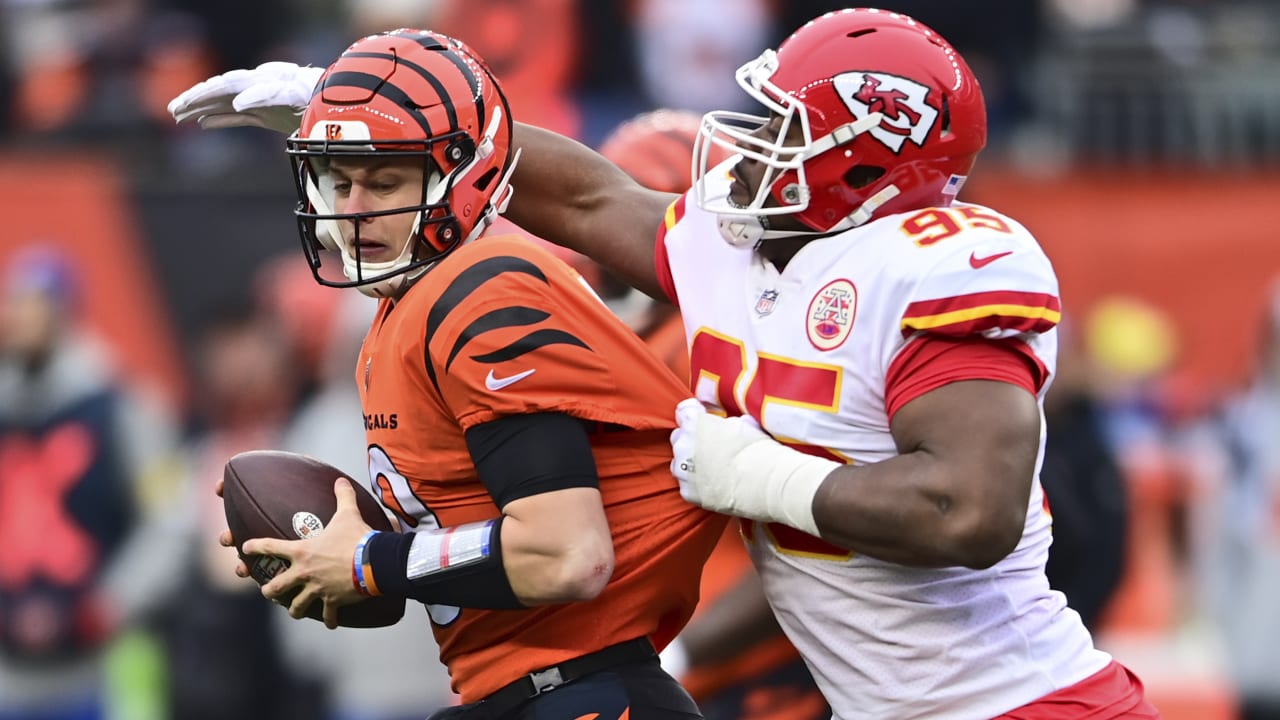 I also think there are simple ways that the Chiefs defense, especially the secondary, can play a big role in this game. That is by shutting down their three biggest weapons. Here are the ways the Chiefs can shutdown Ja'Marr Chase, Tee Higgins and Joe Burrow this coming Sunday.
It all starts with going straight at Chase and Higgins aggressively all game. Ja'Marr Chase had an unbelievable rookie campaign with the Bengals. Chase played all 17 regular season games and finished with 81 catches for 1,455 yards and 13 touchdowns as he was an All-Pro, won Offensive Rookie of the Year, and was nominated to the Pro Bowl.
Chase can line up all over the field. He has the strength and balance to work through press coverage and has active hands and feet to take advantage of a cornerback's leverage; he is slippery and strong enough to stack a defensive back before he knows what hit him. However, Chase is not Calvin Johnson or Julio Jones Big. But, he isn't small either.
With the fact that he's returning from a knee injury, he will likely face problems coming out of his releases from his routes. Unless Spagnuolo designs a play where Chiefs star rookie cornerback Trent McDuffie jams him at the line of scrimmage. He will sometimes lets defenders get hands-on him too quickly, making it more difficult for him to gain separation.
A great example is when quarterback Joe Burrow threw an interception to the Browns' Denzel Ward, who returned it 99 yards for the first touchdown of the game last season on November 7, 2021 at Paul Brown Stadium. The Chiefs still need to consider changing some things, specifically around stopping Chase and his partner in crime Tee Higgins.
With McDuffie, Steve Spagnuolo can be more aggressive as a play-caller, knowing that one side of the field is shut down. That will lead to Chiefs star linebacker Nick Bolton to become the aggressor at the line of scrimmage on blitzes towards Burrow.  When the ball is snapped, he will attack the lead blocker to blow up the play. This is going to set up weak-side linebacker Willie Gay, who is having a career season in 2022, to flow behind Bolton and make the sure tackle on the ball carrier.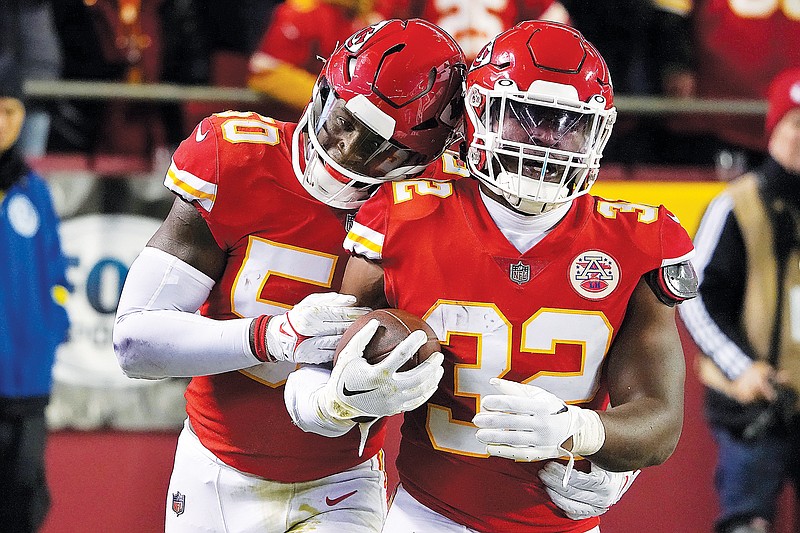 The Chiefs use the blitz as much or more than any team in the NFL. This causes blocking mismatches across the offensive line and allows the Chiefs defenders to get hits on the quarterback. But with reward comes risk, so if the blitz fails, the offense can pick up big gains versus the Chiefs. 3rd and 27 conversions like in Week 17 of last season CAN'T HAPPEN AGAIN.
The Chiefs have the best pass defense in the NFL since Week 9 allowing just 157.3 passing yards per game in that span. Remember, Trent McDuffie is the real deal. His return has lead to the outstanding play of the defensive backfield. This should allow Spagnuolo to switch from zone coverages from the last 4 games to using a lot of press-man coverage especially against Chase and Higgins.  Not only to do they have McDuffie, they have big cornerbacks in L'Jarius Sneed who is having an All-Pro season and rookies Joshua Williams and Jaylen Watson.
Chase isn't the only star pass catcher for the Bengals. Tee Higgins is a great player with great size and ability to make plays.
He also uses hands well at the line of scrimmage to keep defenders out of his chest and throughout the route to create subtle separation. He displays late hands and high-points the football at the catch point when needed. Higgins plays through contact, is difficult to re-route and is a supreme competitor.
However, he can struggle to separate against top shutdown corners which was a question of if he could do it at the next level playing with Clemson team full of All-Stars. Higgins can be a bit inconsistent finishing catches and needs to eliminate the focus drops.
That should allow Spagnuolo with Chiefs defensive back coach Dave Merrit to design about 75% of the schemes of their cornerbacks to play close to the line of scrimmage and make the those two to get off the line.  Versus the run, since they are so close to the line, they can react faster. This type of defense allows Justin Reid to sort through the play and be aggressive as a tackler and pass defender.
Then that finally plays into the main focus, shutting down Mr. Joe Burrr (Burrow). Burrow is a really good player and he navigates pressure in the pocket seeing blitzes, keeping his eyes up and working his way through traffic to find open targets. He has enough athleticism to get out of tough situations from the pocket and make plays out it either throwing or with his legs to extend drives.
He showed mental toughness in a variety of ways from his willingness to deliver accurate throws with pressure in his face especially in clutch performances. However, Burrow has only slightly above-average arm strength, but it doesn't inhibit anything about his game. While certainly capable of escaping the pocket and throwing on the run, Burrow is not a dynamic playmaker with his legs.
This should then lead to Chiefs defensive line coach Joe Cullen and Spags to design around the play of the backfield towards bringing pressure. In their 4 losses this season (Week 1-2, 5 and 8 combined), the Bengals offensive line has allowed 20 sacks total. That's 5 sacks allowed per game. The Chiefs defense as of late have averaged the same amount of sacks per game (5) in their last 4 games. They're also top 5 in sacks as of now after finishing 29th in 2021.
Nick Bolton and L'Jarius Sneed are stalwarts on this defense. Sneed may be one of the best slot cornerbacks in the league right now.  His knack for diagnosing plays and his range will allow Spagnuolo to bring Justin Reid (to channel his inner Bernard Pollard) closer to the line of scrimmage to take away the short passes to the tight end. Watch out Hayden Hurst. Bolton is a tackling machine, and he can thank Chris Jones for most of them.
Now with the addition of former Ravens nose tackle and Kirkwood, Missouri native Brandon Williams, more opportunities will be created for the linebackers. Both of these big massive men alongside the rotation of Derrick Nnadi and breakout star Khalen Saunders, they will occupy two or three blockers a play. Allowing Bolton the freedom to run free and make tackles. If either Jones or Williams is single blocked, they will make the play.
This allows free gaps for Bolton and Gay to attack and get to the ball carrier. Frank Clark is starting to heat back up again. He will likely also have a stellar game.
I feel that these are ways that the Chiefs defense could do this Sunday to win their matchups and take advantage of their destiny. We haven't forgotten the Cincy faithful going on to the Chiefs Kingdoms pages on social media trash talking. Well its over and Sunday is coming. A New Team, A New Attitude. Like the old saying goes 'Defense wins Championships'. Just remember, Kansas City has a chip on their shoulders… and they're coming for it all.