How Frank Clark Could Be A Playoff X-Factor
---
It's Week 14 of the NFL regular season and the playoffs are just less than six weeks away. This week, the Chiefs will have their hands full, after losing to the Bengals in a close one. Their next game is against their rival the Denver Broncos.
Despite a rough past week, Kansas City's defense continues to increase their ceiling. The unit is currently 16th overall in total defense allowing just 343.4 yards per game after finishing 27th overall in the same category last season. They are currently ranked in the top 10 in several categories: sixth against the run (89.4 ypg), tied-fifth for most sacks after finishing 29th in 2021 with 31 (36 in 2022), tied-fifth for fewest rushing touchdowns (7) and the eighth-fewest rushing first downs (71).
One of the reasons has to deal with the addition of Chiefs defensive line coach Joe Cullen. Cullen spent five seasons as the defensive line coach in Baltimore (2016-20). It's not a coincidence that the run defense is this dominant this season all due to Cullen's coaching style and philosophy. From 2016 to 2020, Baltimore boasted the league's top-ranked defense (314.1 ypg).
Cullen oversaw defensive tackle Calais Campbell to his sixth Pro Bowl selection during that span, edge-rusher Matt Judon to his third-straight Pro Bowl (2018-20), Cullen tutored new Chiefs then-Ravens nose tackle Brandon Williams to his first Pro Bowl selection in 2018. In 2017, Cullen led Baltimore's defensive line, which was part of a defensive unit that led the league in takeaways (34) and finished tied for ninth with 41.0 sacks, including 11.0 sacks coming from DE Terrell Suggs en route to his seventh Pro Bowl selection. The Ravens defense was dominant, ranking sixth in scoring (18.9 ppg) and third in total defense. They also ranked seventh overall (322.1 ypg) and fifth against the run (89.4 ypg) in 2016. Under his leadership that season, Suggs led the team with 8.0 sacks.
Another reason is because of the pass-rushing combination of Chris Jones and Frank Clark. For the fifth-consecutive season, defensive tackle Chris Jones has tallied up the most sacks on the Chiefs defense with 10. Chiefs defensive end Frank Clark might not have that many sacks but he is known for his dynamic abilities as a pass-rusher and has lived up to that reputation in so far in 10 games with 3 sacks, 5 quarterback hits, 32 hurries. Add it all up, and that's 32 plays where Clark affected the quarterback personally.
The Chiefs defensive line has been amazing all season. However, against the Bengals — SACK NATION took a digression. Overall, the whole defense lacked the intensity and effort to win the game. This defense may be stuttering out, similar to how it did in 2019. In 2019, Frank Clark helped take the charge to lead the way back on track. Clark had 5 sacks over the team's three playoff games en route to a victory in Super Bowl LIV.
Fast forward to the 2022-23 season. While the circumstances have changed quite a bit for the defense — Improvement on the defensive line was highlight by the additions of veteran pass-rusher Carlos Dunlap and first-round rookie pass-rusher George Karlaftis who has sacked the quarterback 2 times in the last two games and by the emergence of defensive tackle Khalen Saunders. For a defense that has been often dominant through the season promises to be even better in the future — one thing remains true yet again: Frank "The Shark" Clark could very well end up being the X-factor for the Chiefs in the postseason.
I am going to breakdown the three main things that the Chiefs could do to unleash the Shark, one being a bit more obvious than the others. That being said, let's take a look at the three ways the Chiefs can utilize their Pro Bowl edge rusher:
1.) What if Frank Clark moves all over the D-line?
Yes, I said it — It might be crazy but it's an idea that might create an endless amount of new opportunities. This could more so be an idea for next season, especially if they look for this type of player early in the draft. I think the Chiefs should use Frank as a chess piece similar to how the Cowboys use Micah Parsons.
His speed, strength and athleticism combine to make an unstoppable part EDGE/part linebacker and sometimes in the interior. Some may call it a reduced role because of the running game has turned "Sam" linebackers into two-down players — unless they exhibit special qualities on passing downs (blitz/pass-rush ability or cover skills). The premier players at the position are versatile defenders with superb agility and athleticism.
During his rookie season in 2014, Khalil Mack (6'3″, 252 lbs) was known as a pass-rusher at Buffalo, even though the Raiders started him at the SAM role, they did utilize him some off the edge to the tune of four sacks, 10 hits and an insane 40 quarterback hurries. Mack showed explosive quickness in his first step and has the power to lift blockers and push them back into the backfield.
Pass coverage was something Mack also excelled at in college, and he had an easier transition than most rookies do. He has all the athletic tools to drop into zone coverage or lock up a tight end but must improve his awareness. In my studies I have discovered through a scouting report via TheScoutingAcademy.com as that Clark has the same ability to do what Khalil Mack did early as a SAM rusher off the edge and even playing in limited coverage.
Some of that comes from their report on Clark as they reviewed his seasons from 2016 to 2017 in Seattle where he's played the most snaps in the linebacker box role in that span (29). Clark is still a solid edge rusher with very good upfield burst from 2, 3, and 4 point stances vs the pass. In his 29 pass coverage snaps, showed he can open up and get to hook-curl and flat zones while keeping head on a swivel. Coming out of Michigan like he's doing in the NFL, he also employs his great physical tools and high effort to track running backs when the sack isn't there.
Since his return from his suspension, Clark is looking like his old Seattle Seahawk self. Clark has a 72.9 PFF Grade since Week 6. That's 27th among 121 qualifying edge rushers in that span according to PFF even though his overall grade is 61.9. He's looking the guy who was the number one reason in my opinion our defense went on to help us win the title. If the Chiefs can ride him once again, and move him all the defensive line, then they should be able to play the same football that helped them earn the Vince Lombardi Trophy in 2019: use your best defensive playmaker along the edge rushers with the ability to disrupt the timing and rhythm of the opposing team's passing game and serves as a perfect complementary piece to the NFL's best offense.
2.) Spagnuolo can incorporate Clark's Seattle playing style into his Kansas City role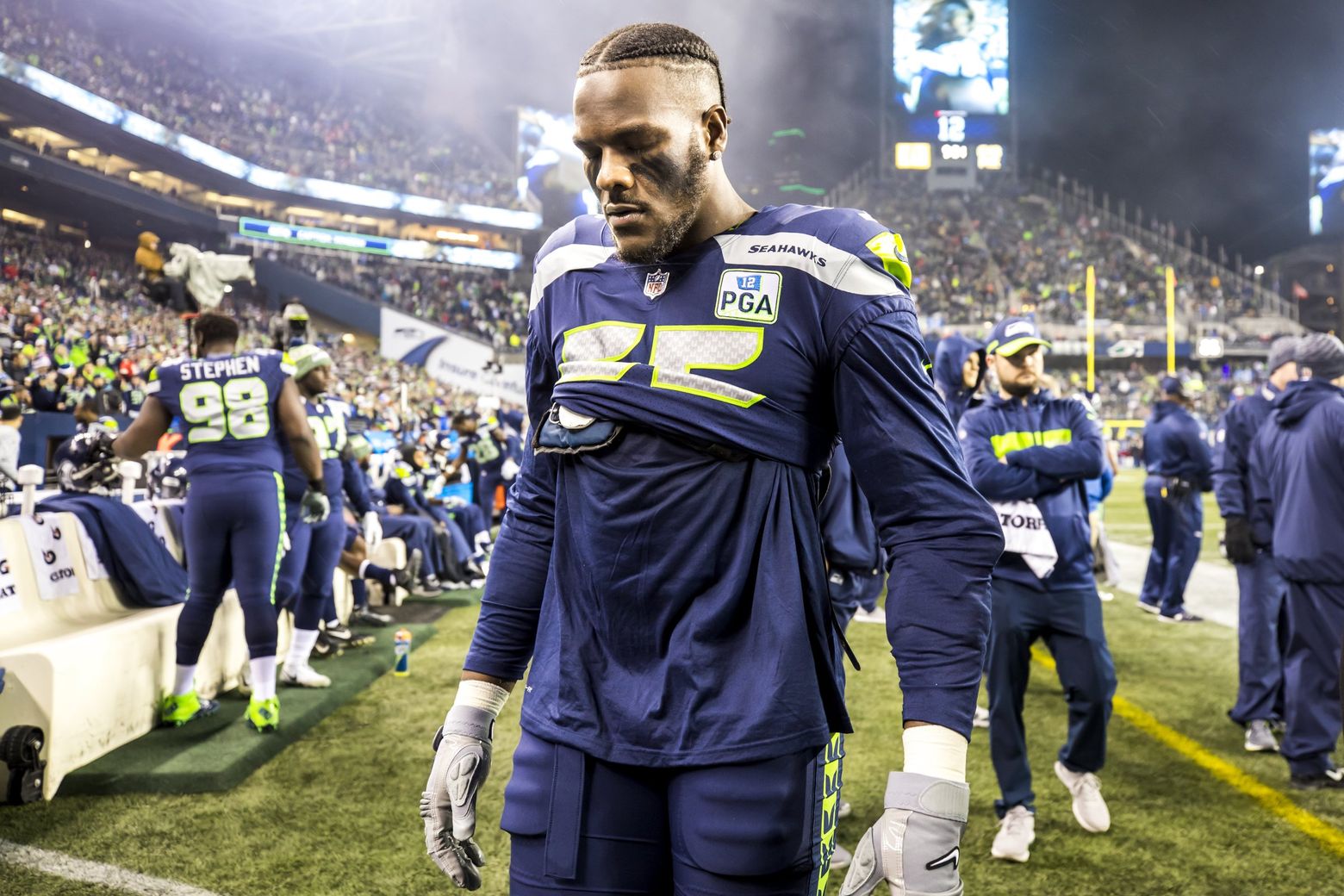 As outlined above, Clark's impact on Sack Nation and his Seahawks tape from 2016 to 2018 is pretty straight-forward. But he also can help the one of the league's top pass-rushing unit find its groove. If Spagnuolo alongside Cullen can incorporate the usage of how then-Seattle Defensive Coordinator Kris Richard and current Seattle Defensive Line coach Clint Hurtt used Clark, they will have the success of having a healthy rotation of lineman playing off each other. This split reps theory will be successful and will keep players healthier.
Clark had a 10-sack 2016 season and his role for 2017 was expanded due to the departure of Bruce Irvin in free agency for the Raiders. Richard, whose defense featured at the time a 4-3 base and incorporates 3-4 concepts just like the Chiefs do now. Clark during the 2017 season was a 3-down player who primarily aligns as a Right Defensive End and Left Defensive End and was typically subbed out was when the Seahawks would use their 3-4 package (although he played limited snaps at LOLB and ROLB).
In their quarter package, he played as an interior stand-up rusher in a 3 technique over the Left guard or Right guard. Adequate height (6-foot-3) and weight (265 pounds), and a lean build with good arm length (34 3/8 inches). Clark displayed his very good athletic ability with a very good combination of explosiveness, lateral agility, and change of direction. Very good upfield burst in the run game and processes zone blocking schemes very quickly. He holds his ground with good pad level and core strength. Leverages his gap as a one-gapper and stays square and keeps eyes on the runner as a two-gapper. Shows solid ability to get off blocks and good ability to tackle runners in his gap.
Overall, Clark helps his team win by using his flexibility and is fast off the edge, and can get to the quarterback, he uses his mental processing, and functional strength vs the run and with upfield burst, athletic ability, and competitiveness as a pass rusher. Clark at his best as a pass rusher when he has a two-way go and when he has space to work with from a 9-technique. When Andy Reid was coaching the Eagles in 2011, they ran a 4-3 defense but use a front called the "wide nine."
At the time, their Defensive ends Jason Babin and Trent Cole aligned about a yard outside of the offensive tackle or tight end. They get in the track stance and fire up field as fast as they can.  If the play is a run, they must react on the fly and try to gather themselves and get back to the ball carrier. This scheme helps produce sacks in droves but that type of alignment also puts a lot of pressure on the linebackers.
3.) Finally, What I personally like to see?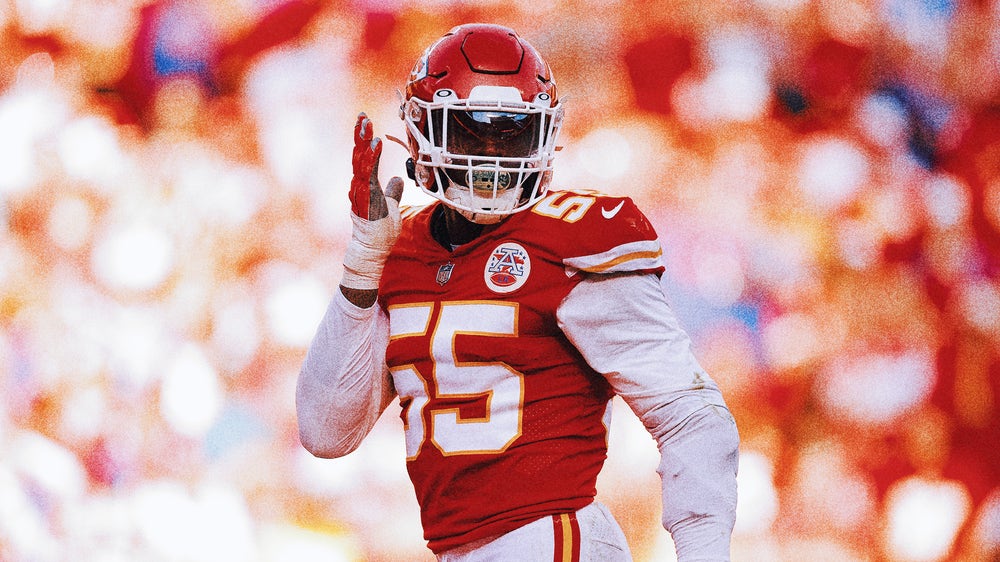 Cullen was brought in to help Spagnuolo improve a defense that was 27th in the NFL last season in total defense. He has plenty of tools at his disposal and should have no problem improving this defense. Clark has been a beast since his Week 6 return and will only improve under Cullen's tutelage.  I hope Spagnuolo watches how Khalil Mack and Von Miller were used early in their careers as Strong-side linebackers and became full time edge rushers.
Like what Miller and Mack did their roles, Clark should be allowed to freelance more and use his natural pass-rush skills as a blitzer. Carlos Dunlap excels as a pass-rusher and will get more one-on-one pass-rushing opportunities with Clark rushing from the opposite side. Not saying that Clark should full time be moving to linebacker or anything. I am saying just watch how the Raiders used Khalil Mack in 2015. He played the strong-side role standing up in a 2 point stance blitzing and then on passing downs he lined up in 3, 4 point as left and right defensive end.
After the conclusion of the 2015 season, Mack became the first player in NFL history to make the AP All-Pro First Team at two positions in the same year; defensive end and outside linebacker. There was a player that played a similar Khalil Mack/Von Miller/Micah Parsons role for Spagnuolo. His name was Devon Kennard (now with the Ravens) in 2016 with the Giants.
The outside linebacker/edge hybrid Kennard appeared in 40 games (29 starts) under Spagnuolo's tutlege with the Giants from 2015-17, totaling 160 tackles (101 solo), 5 sacks, 17 Quarterback Hits, 13 Tackles for losses, 1 interception, 3 forced fumbles, 2 fumble recoveries and 8 passes deflected for a defense that ranked No. 5 in the red zone (49.7) and No. 1 in goal-to-goal efficiency (60.4%) during that span…Added to during the Giants' 2016 season, he played the same role as Khalil Mack as a outside linebacker/defensive end on passing downs for Spagnuolo.
Spagnuolo is one of the best defensive coaches in the NFL at putting his players in the right position to succeed. The front seven of this 4-3 scheme is a solid unit that plays fundamentally sound. When Chris Jones comes off the ball with leverage, he can control the line of scrimmage. Remember, former Chiefs legend Tamba Hali defensive end defensive end in the 4-3 was a solid player. But once Romeo Crennel installed the 3-4 and moved Hali to outside linebacker and took his game to a Pro Bowl level after that. You want an aggressive defender, not someone paralyzed by analysis, but you also want a smart player who can adjust on the fly both physically and mentally. If you look at all his past film and his current progress with Joe Cullen, you have that aggressive X-factor in Frank Clark come January.
Highlights Below (Watch Clark and Mack and their alignments)
Frank Clark 2016 Highlights: https://www.youtube.com/watch?v=Shv51EU8hZM
Khalil Mack 2015 Highlights: https://www.youtube.com/watch?v=iH_DAThhPaQ