Chiefs vs Broncos: The League's Top Offense Against It's Top Defense
Here's what Kansas City can do to move the ball against Denver's top defense.
Justin Miles (@justm1les)
---
The 9-3 Kansas City Chiefs are set to visit AFC West rival, the 3-9 Denver Broncos this Sunday. While the Chiefs clearly look like heavy favorites in this one, inner-division matchups are always much more competitive than expected.
While Denver has had offensive struggles, their defense has been one of the best in the league. With a great defense matched-up against the best offenses in football, this game will not disappoint.
Let's take a look at the numbers for an idea on what to expect in this one.
Kansas City's offense has been nearly unstoppable. They lead the league in both yards and points per game. The Chiefs average 423.3 yards and 29.2 points per game. They have been one of the most productive offenses in football. Not to mention, recently acquired Kadarius Toney is set to return from injury.
After falling to the Bengals last week, expect Mahomes and the offense to come out electric from the start.
The Denver defense has been great. They are 3rd in the league in yards allowed per game, giving up an average of just 304.6 yards a game. The unit is also 2nd in the league in points allowed per game, allowing an average of just 17 points per game.
While the Broncos offense has been nearly nonexistent, their defense will provide a great matchup against the Chiefs.
This game will be a great opportunity for Kansas City to get their offense back on track from last week. Playing a good defense will force the team to rely on their playmakers and staying calm and collected while doing so.
While Denver's defense has been great, their scheming often leaves holes in coverage. Kansas City will have to capitalize on the opportunities given as they appear.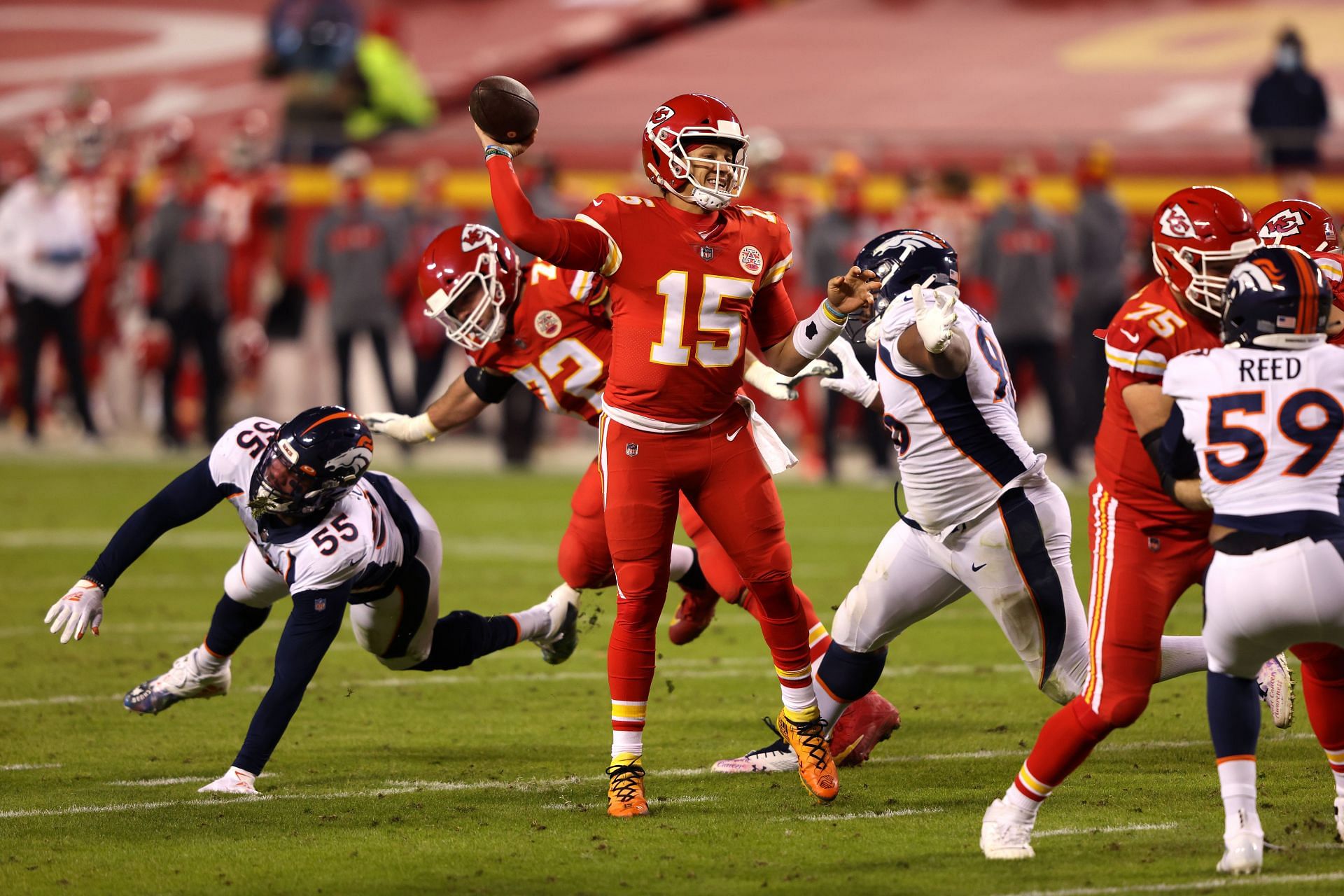 In their last 3 matchups, the Broncos have faced the Baltimore Ravens, the Carolina Panthers, and the Las Vegas Raiders.
In each of these matchups, the Broncos faced three very different offensive schemes. Facing different styles of offenses, may force a defense to tip their hand on their strengths and weaknesses.
In their matchup against the Ravens, Lamar Jackson went down early with an injury, leaving backup Tyler Huntley to manage the offense. While the Broncos were able to shut down the passing game, Huntley and the running backs were able to eat away on the ground.
In the matchup prior, Denver played the Panthers. In this matchup, Carolina running back D'onta Foreman stole the show, rushing for 113 yards on 24 carries. He was able to consistently chip away on the ground against the Broncos. In this matchup, receiver DJ Moore also had a phenomenal game, catching 4 passes for 103 yards and a touchdown. No other receiver on Carolina's offense has more than 25 receiving yards.
Finally, in their matchup against the Raiders, Denver once again gave up big chunk plays that ultimately decided the game. Vegas running back Josh Jacobs took 24 carries for 109 yards. Raiders receiver Davante Adams went nuclear, catching 7 passes for 141 yards and 2 touchdowns. However, no other Raiders receiver had more than 55 yards receiving.
While these matchups were all different, all had a similar outcome. An opposing offense establishing a dominant run game can become Denver's kryptonite. Kansas City consistently feeding the ball to Isiah Pacheco will become a recipe for success.
Oddly enough, offenses facing the Broncos usually see high production from their WR1, but nearly nothing from anyone else. Why is this?
Denver likes to leave star cornerback Patrick Surtain on an island with the number 2 receiver. Inevitably taking the opposing offenses number 2 guy out of the mix. This usually leaves the CB2 and a safety double teaming the opposing teams WR1. However, this can leave a window of opportunity for other guys on the field.
With Kansas City's offense, it is very hard to double team anyone. On that same page, even with your best corner guarding the WR2, Andy Reid will find a way to get him the ball his guys the ball. If the Chiefs can stay consistent in the run game, it will create a flood of opportunities out of play-action.
Double teaming JuJu Smith-Schuster will create gaps in the defense. If JuJu is able to find the soft spot in between coverages, Mahomes will be able to consistently get him the ball off of chunk plays.
Denver's defense struggles to get off of the field when it matters. They frequently hold the defense to 3rd and long but oftentimes give up a long 3rd down play, killing any momentum they had. Kansas City will have to take advantage of the deep ball any time it's available.
If Surtain is on the WR2 and the WR1 is doubled, not only does Kansas City have enough depth to still open up the field with other weapons, but they have the best tight end in the game. Denver will not be able to just scheme off of the receivers, like they did in their previous matchups. They will have to focus on locking down Travis Kelce.
However, scheming to stop Kelce is not as easy as it may seem. When guarding Kelce, you cannot put a corner on him, or else Kelce will out-muscle him. However, a linebacker cannot be placed in coverage because Kelce will run by him.
This oftentimes leads to Kelce being double teamed by a linebacker and a safety over the top. However, double teaming Kelce will prevent the defense from doing so on the WR1.
If Denver decides to treat Kelce as the WR1 in their scheming, it will leave their 3rd best corner guarding either Kadarius Toney, Skyy Moore, or Justin Watson. We have seen some of the best corners in the game fail to stop these guys. So they clearly will have a field day against some of the defensive backs lower on Denver's depth chart.
Keep in mind, the linebackers and safeties will have to focus on this coverage, all while preparing to also stop the run.
If the offensive line can give Mahomes time, it likely will not appear that Denver has a top 3 defense after this one. Kansas City's versatile, well coached roster, makes it practically impossible to scheme against. Nearly any weapon on the Chiefs offense could have a big game. Production will all be decided upon who the Broncos emphasize on stopping. However, you can count on Mahomes ensuring someone sees success.
On the flip side, on the off chance Denver does stop Mahomes and the offense, their offense would still have to drive down the field in score. I like Kansas City's odds.
Tune in this Sunday for the AFC West battle. As always, Go Chiefs!