Kansas City Chiefs: Week 14 Winners and Losers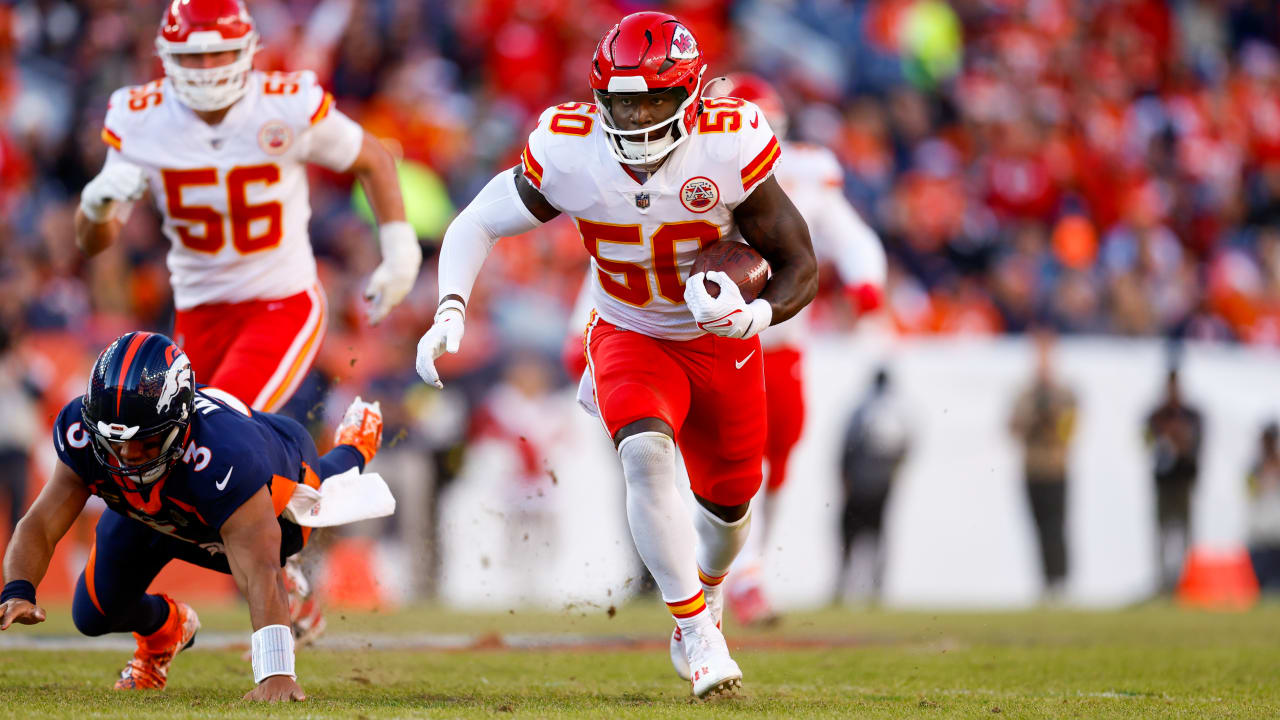 ---
After a tough loss to the Bengals, Kansas City took down the Broncos in a thriller. The Chiefs came with a 34-28 win over the Broncos this past Sunday. The Chiefs improve to 10-3, while the Broncos are officially eliminated from playoff contention. There were many players that contributed to the win but there were those that stood out to me. Here is the list of the winners and losers of Week 14 for the Chiefs.
Week 14 Winners:
1. Sack Nation
Sack Nation came out and played extremely dominant in this one. They sacked Broncos quarterback Russell Wilson 6 times. Safety Juan Thornhill's blitz paid dividends on an 8-yard sack on Wilson and rookie defensive end George Karlaftis sacked Wilson early on. Linebacker Darius Harris and nose tackle Brandon Williams combined for one sack for a loss of 14 yards on Wilson.
Stars defensive tackle Chris Jones and defensive end Frank Clark overpower the Broncos offensive line, getting a sack each and constantly wreaking havoc.
It was a great week for the unit, who seems to be meshing perfectly just in time for the playoffs.
2. Willie Gay, linebacker
Weakside linebacker Willie Gay had one of his best games as a Chief in this one. According to PFF, he earned an 82.9 PFF grade on their first review, which would be the fifth-best single game mark of his three-year career. In the second quarter, The Broncos faced 4th and 2 at the Chiefs' 45-yard line with 4:32 left in the first half. Broncos quarterback Russell Wilson rolled out and tried to hit Broncos wide receiver Brandon Johnson on a short pass. But Gay tipped the ball up and intercepted it. Wilson tried to make a quick tackle, but Gay stiff-armed him to the turf, shrugged off the tackle attempt and ran 47 yards unimpeded for a touchdown.
Gay also was involved in several other stops throughout the night. He continuously flew around and made plays.
3. The duo Isiah Pacheco and Jerick McKinnon, running backs
The running back duo set the tone for another huge performance by the Kansas City offense. In the second quarter, Jerick McKinnon caught a grenade toss-like pass from Patrick Mahomes along the sideline and took it 56 yards to the house. McKinnon then capped the team's next possession with a 10-yard TD catch.
Rookie Isiah Pacheco carried the ball 13 times for 70 yards and caught all three of his targets for 23 yards. The rookie took a back seat to Jerick McKinnon in this one as the veteran piled up 134 combined yards and two receiving TDs.
Nonetheless, Pacheco still posted the second-highest scrimmage-yards total of his young career. Pacheco remains the primary early-down back for Kansas City, but both RBs figure to be productive in Week 15 against a Texans defense that just coughed up 143 combined yards and three touchdowns to the Cowboys duo of Tony Pollard and Ezekiel Elliott.
4. Travis Kelce, tight end
The Chiefs future Pro Football Hall of Famer Travis Kelce reached the milestone of 10,000 career receiving yards in Kansas City's win. He now has 10,045 career receiving yards and is the fifth tight end ever with at least 10,000 career receiving yards. Joining Pro Football Hall of Famer Tony Gonzalez (15,127), Jason Witten (13,046), Antonio Gates (11,841) and Pro Football Hall of Famer Shannon Sharpe (10,060).
Kelce, who has recorded at least 1,000 receiving yards in each of the past seven seasons (2016-22), is the first tight end in NFL history with seven career seasons of at least 1,000 receiving yards. This man is built to play football and is one of the most unstoppable players in the league.
Week 14 Losers:
1. PATRICK MAHOMES' 3 Picks!!! (Not the player but the decisions)
Patrick Mahomes is still the best player in the NFL. It was an up-and-down game for Mahomes on Sunday, throwing three interceptions. Nonetheless, Mahomes was still phenomenal, never giving Denver a lead. What separates elite quarterbacks from the rest is their ability to bounce back from mistakes and remain confident. He was still able to take those risky throws and extend plays even after the picks. Mahomes went 28-for-42, with 352 yards and 3 touchdowns.
Those picks could've cost us the game, yes. However, Mahomes took responsibility in the postgame press conference. He's a competitor and he's not afraid to throw it. It comes down knowing when to throw it when the opening is there. MVPat has 4,160 passing yards this season. He joins Pro Football Hall of Famer Peyton Manning as the only players in NFL history with at least 4,000 passing yards in five of their first six seasons.
2. THE OFFENSIVE PLAY CALLING
As I stated earlier, Mahomes picks could've almost allow the Broncos to comeback and win the game. Unfortunately, the turnovers by Mahomes was not even the biggest reason for a near comeback. There were certain stints of the night with awful playcalling. The team scored 20 points in the first half but only scored 7 points in the second half.
There will be no name-shaming, however there is obviously a weak link in the playcalling. There were many questionable calls that were very predictable. While a team obviously does not want to give away all of their best plays in one game, it is important to do what it takes to win game by game. This is an issue that will hopefully be resolved come playoff time.
3. DEFENSIVE BLITZES
Chiefs defensive coordinator Steve Spagnuolo has an improved defense ranking at 15th overall. The unit is also 3rd in the league with 42 sacks. Spags enjoys blitzing a lot, which has certain pros and cons. While when successful a good blitz is great, there are many scenarios where a blitz is inappropriate. Unfortunately, Spags occasionally fails to realize when it is a poor time for a blitz.
At certain times on Sunday, blitz calls made the Chiefs' young secondary exposed often. Russell Wilson attacked in those moments making Broncos wide receiver Jerry Jeudy to look like an All-Pro. Give credit to Spagnuolo for calling a the play that led to the Sneed pick at the near end of the game. This is a young defense. Almost like the NFL's version for the Michigan Fab Five, the Chiefs have the players with whom Spagnuolo can win with and I wish he would look at his 2016 Giants unit and fit the guys he has now into the roles that work for them that could work for the Chiefs going forward.
While it is obvious that calls will not always work, Spags need to focus on better scheming for game scenarios.
Nonetheless, Kansas City is in good hands. All of these issues are easily resolved and will be cleaned up when it matters.