The Kansas City Chiefs Defeated The Houston Texans In A Tough Overtime Battle
Justin Miles (@justm1les)
---
The Kansas City Chiefs defeated the Houston Texans 30-24 in a wild overtime battle. In doing so, the Chiefs move to 11-3 and clinch a 7th consecutive AFC West Championship.
While the matchup was not as pretty as one would expect, a win is a win.
Let's breakdown this matchup.
Patrick Mahomes played a near perfect game. Through the air, he went 36/41 for 313 yards and 2 touchdowns. He also had 5 carries for 33 yards and a touchdown. Mahomes continued his MVP campaign with an unstoppable performance. He was consistently good for the team, continually shining every week.
The duo of Isiah Pacheco and Jerick McKinnon once again ate in this one.
Isiah Pacheco took 15 carries for 86 yards, averaging 5.73 yards a carry. His dominant running continues to gain recognition. He is developing into one of the best smash-mouth running backs in football. He unfortunately, did also have a fumble in this one.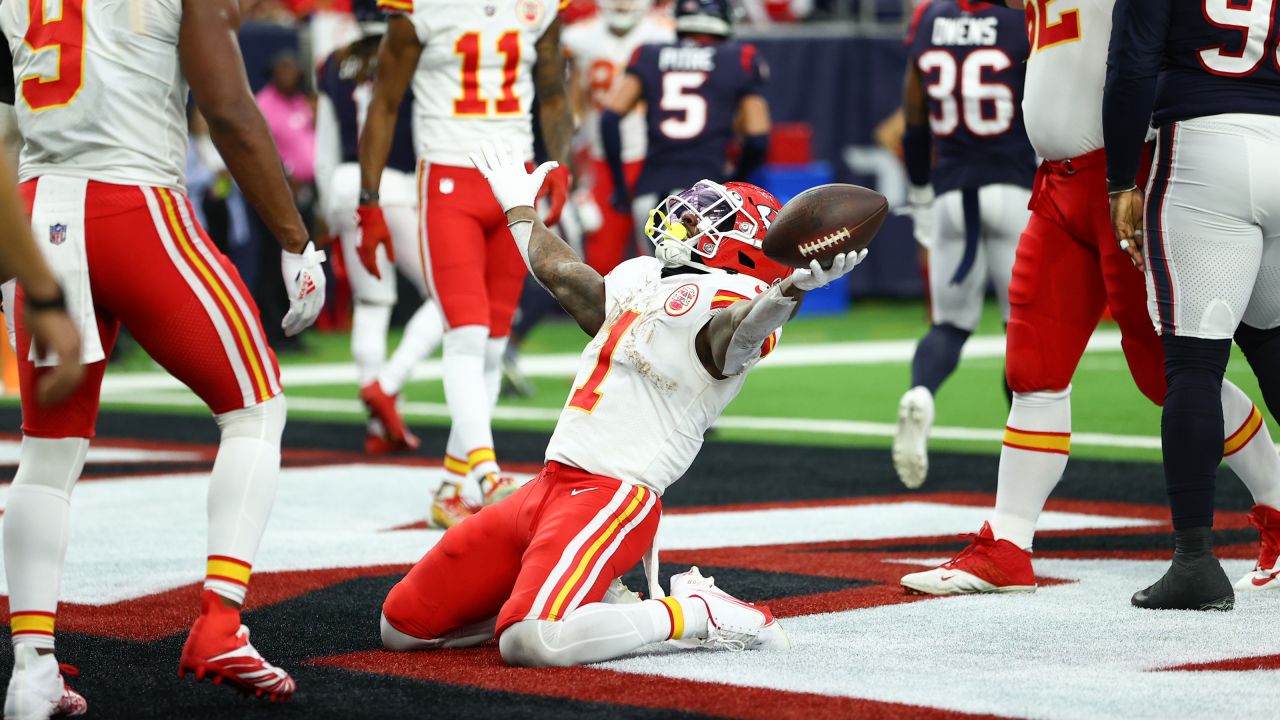 After a jaw-dropping outing last week, Jerick McKinnon once again shined in this one. He took 10 carries for 52 yards and a walk-off 26 yard touchdown to win the game. Jerick to be a key weapon in the passing game, taking 8 carries for 70 yards and a touchdown. He continuously proves to be an amazing Swiss Army knife in this Kansas City offense.
The Chiefs need to give him an extension immediately!
Travis Kelce had a great outing in this one. He caught 10 passes for 105 yards. He seemed to always be there when Mahomes needed him most. The connection that the duo has is un-earthly. In this one, Kelce passed Shannon Sharpe for the 4th most career receiving yards by a tight end in NFL history. He continues to chase greatness, extending his case for the best to play the position.
JuJu Smith-Schuster also had a great game. He caught 10 passes for 88 yards. He disappointingly also had a fumble in this one after taking a non-called cheap hit. Regardless, he continues to develop into a great addition to this Kansas City offense.
Marquez Valdes-Scantling caught just 3 passes for 26 yards but had a nice touchdown grab as well. While he may not be a WR1 for the team, his ability to make contested catches and draw defenders deep, has been a key piece in Kansas City's offensive success. He may not be consistently putting up record breaking numbers, but is a solid role player for the Chiefs.
The offensive line had their fails, but played a mostly clean game of football. They allowed just 2 sacks and 3 QB hits, while also blocking great in the run game. This unit has an extremely high ceiling for success and showed that today. The O-line had maybe the best game of their season. This is something that they can hopefully continue moving forward.
In his homecoming return to Houston, Justin Reid had a spectacular game. He had 6 total tackles including 1 tackle for a loss and 1 pass deflected. He was one of the best players for Kansas City's defensive unit today.
Nick Bolton and Willie Gay combined for 11 total tackles and continually made plays. They flew around and filled the needed gaps when needed. The duo continues to be the face of this defense. Gay also had the fumble recovery to give Kansas City the ball back in overtime.
Frank Clark had a career game, racking up 5 tackles, including a tackle for a loss, 1 sack, and a forced fumble in overtime. He flew around and caused chaos continually throughout the game.
Overall, the defense gave up a couple of big plays but mostly played great football. The thing to blame for the few defensive struggles is the scheming and playcalling. In my opinion, there were many inappropriate decisions made from the side lines in this one. Nonetheless, the defense was able to fly around and make plays when needed. They were able to hold the Houston offense to just 223 total yards, with an average of 3.8 yards per play. These numbers are impressive, no matter how poor the opposing teams offense is.
Unfortunately, limiting the Texans' offense did not matter. The Chiefs were called for 10 penalties, giving up a grand total of 102 yards off of those. Not to mention the two fore-mentioned fumbles.
Defensive success is only valuable when the entire team plays a good brand of football.
The Chiefs were slightly better in moving the sticks on first down, converting 6/12 third down conversions. However, a 50% conversion percentage is still too low for a team looking to make a Super Bowl run. This is something else I believe the team needs to improve on.
Nonetheless, a win is a win and Kansas City survived in this one.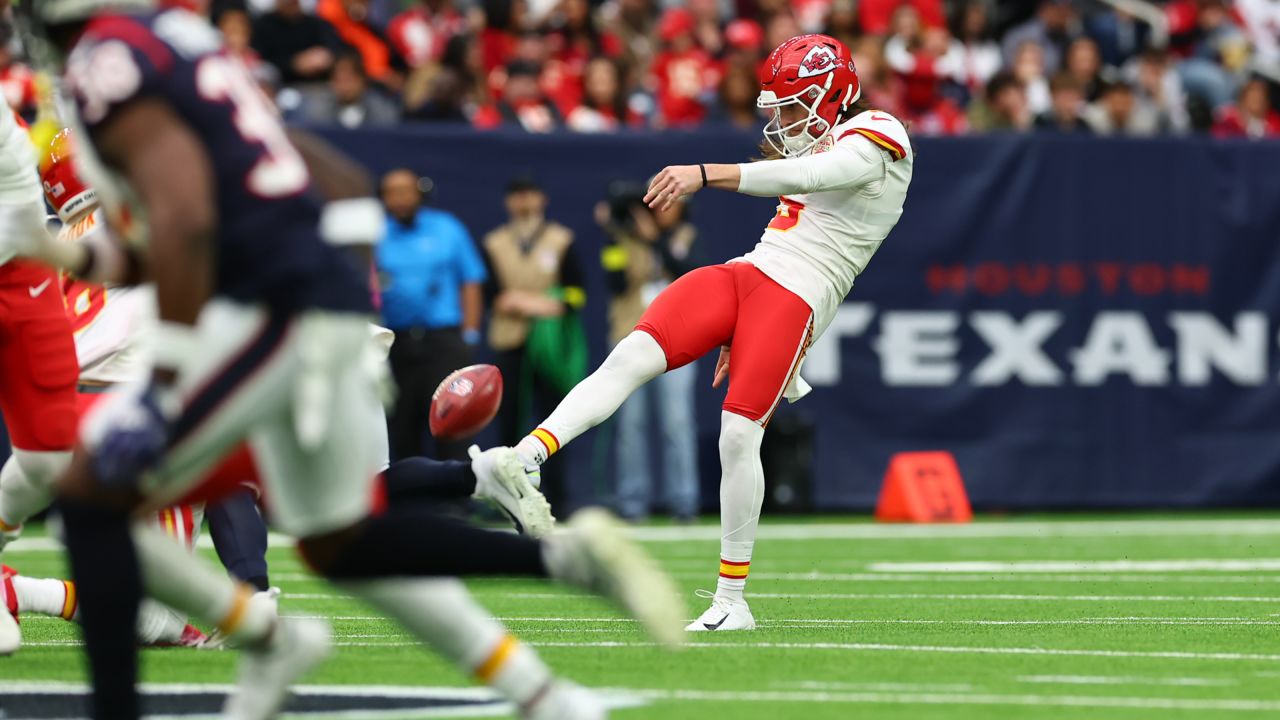 Kansas City's special teams continued to struggle.
Kicker Harrison Butker went 1/2 on field goals, hitting a 27 yarder but missing a potential 51 yard game winner. He also went 1/2 on PATs, missing one early. While this is very frustrating, it is something the team will just have to deal with for now. We saw while Butker was injured that there are currently no realistic replacements on the market. It is well known that Butker has the potential to be great, but he will need to step up his game moving forward.
On the flip side, punter Tommy Townsend had a great game. He punted 4 times for a total of 193 yards, averaging 48.3 yards a punt. Two of his punts stuck the Texans within the 20 yard line. He was a key contributor for the defense, setting up multiple Houston drives with poor field position.
While you never want to see your punter on the field, it is relieving to know that Townsend has the leg it takes to assist the defense when needed. A great punter can be a very underrated key to a successful team. Townsend has earned his flowers in this one.
While it was far from pretty, Kansas City came out victorious. In the end, a win is all that matters. The Chiefs have become just the third team in NFL history to win their division 7 consecutive times. While it has been known for a while, the Kansas City Chiefs are officially going back to the playoffs!
The Chiefs welcome the Seattle Seahawks next Saturday for what will be an awesome Christmas Eve showdown!
YOUR KANSAS CITY CHIEFS ARE AFC WEST CHAMPIONS!!