Kansas City Chiefs: Winners and Losers from Week 15
---
The Kansas City Chiefs have participated in back to back thrilling games. First the Broncos, then yesterday's game. This week was another thriller, but we still got the job done and claimed the West for the seventh straight season. The Chiefs came out over the Texans with the win in overtime on Sunday.
The Chiefs improved to 11-3 and are in second of the AFC. Their 7th consecutive AFC West championship ties for the 2nd most consecutive division titles in NFL History along with the 1973-79 Los Angeles Rams. Only the 2009-19 New England Patriots have more (11) than both teams.
There were many players that contributed to the win, but there were those that I watched that stood out to me.
Here is the list of the winners and and my one loser of Week 15 for the Chiefs.
Week 15 Winners:
1. Patrick Mahomes, Quarterback
The Chiefs made some ugly mistakes in this game. However, fortunately the team is talented enough to still pull out victorious. In this one, the team lost two fumbles, which both led to Houston touchdowns. These turnovers were a big reason why the Texans were able to stay in this game.
As close as this game was, Patrick Mahomes made for certain that it wasn't going to turn into an upset. The MVP QB candidate completed 87.8% of his passes (36 of 41), which is the NFL record in a game where the QB threw 40 or more passes. Mahomes also threw 2 TD passes to go along with a rushing score and no turnovers.
The Chiefs won't be bragging about this win at the end of the season, but they will probably be bragging about the fact that they just won their seventh straight division title. Mahomes is in a class of his own this season and he joined an exclusive group as well with his performance this season. There were only two quarterbacks in NFL history that had exactly four seasons of 35+ touchdown passes in the history of the league; Peyton Manning and Drew Brees. Now there are four, as Mahomes joins the group, itching 35 touchdowns for the fourth time in five seasons as a starter.
2. Frank Clark, Designated pass rusher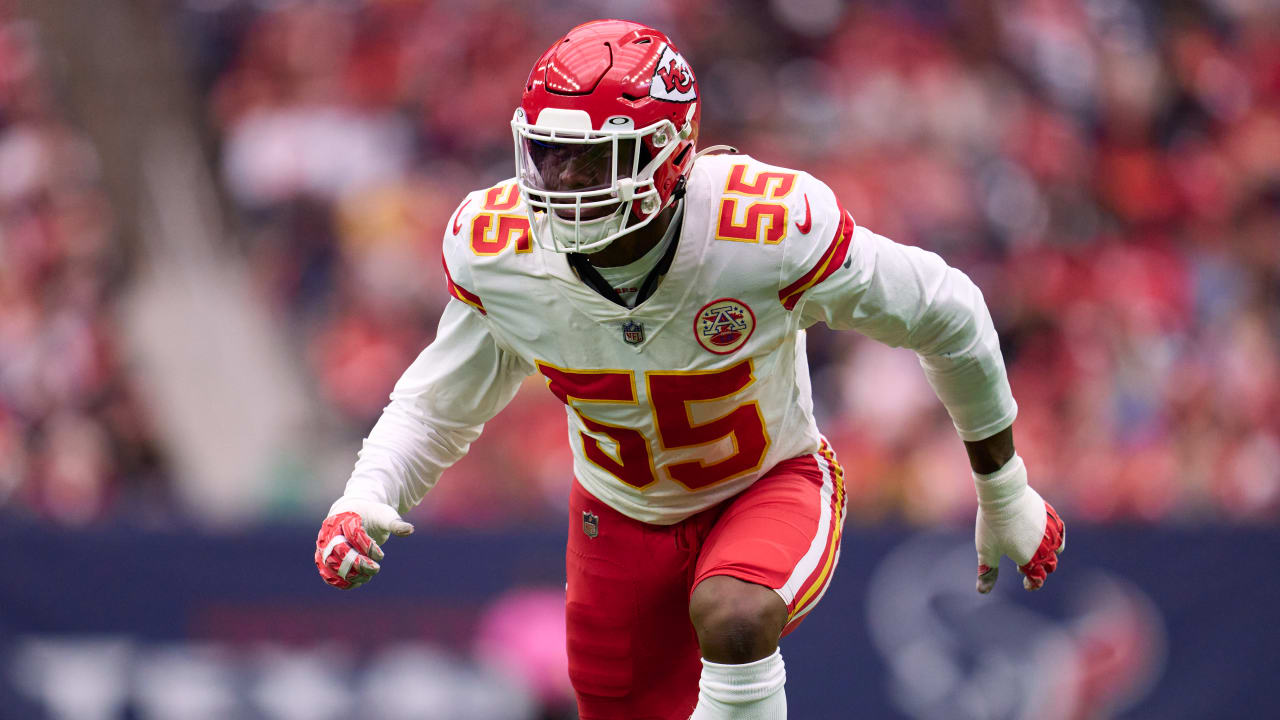 Just last week, I wrote an article explaining how Frank Clark would be an X-Factor this coming playoffs. Yesterday, not only did I see the Frank Clark from the 2019 playoffs, I saw 10+ sack season Frank Clark from the Seahawks.
Along with an exceptional overall game, Clark's biggest play came when forcing a fumble in overtime. That play led to the McKinnon game winning score. Clark finished with a 91.2 PFF Grade which is the highest by any Chiefs defender this week and the best among all pass rushers from Week 15. Frank Clark the Shark is starting to smell blood in the water.
3. Isiah Pacheco and Jerick McKinnon Duo, Running back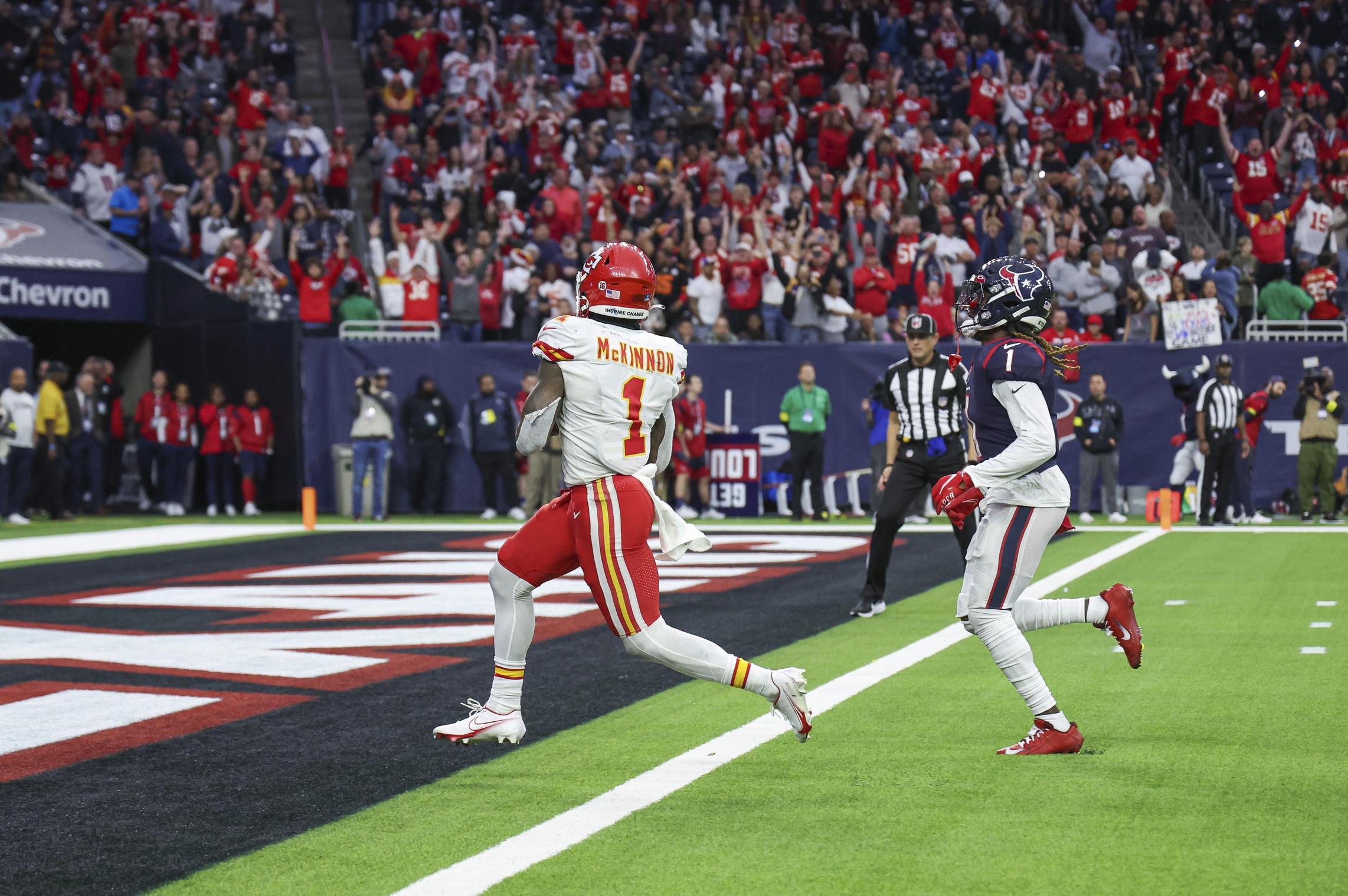 Just like last week, the duo of running backs, Isiah Pacheco and Jerick McKinnon, continued to be a revelation for the Chiefs offense. McKinnon came off of a career game last week when he caught 7 of 9 targets for 112 yards and 2 touchdowns. He continued showing off his skills out of the backfield and illustrated why he's known as a pass catching specialist. Jerick answered the call again by catching all 8 of his targets for 70 yards and picked up another receiving touchdown.
But this time, he even did some work on the ground. He ran the ball a season-high 10 times for 52 yards and another touchdown. His rushing touchdown was the biggest play of the game with the 26-yard walk-off TD run sending Texans fans home unhappy.
Efficiency was the key part of Pacheco's production rushing the ball 15 times for 86 yards and caught one pass for 11 yards in the Chiefs' 30-24 win against the Texans on Sunday. He averaged close to six yards per carry. He helped give the Chiefs offense a chance to control the tempo of the game against Houston. The star rookie played well against this dismal defense, and he should continue to be split the time of touches between him and McKinnon moving forward.
4. Trent McDuffie, Cornerback
Chiefs first-round rookie cornerback Trent McDuffie continues to be that guy who opposing quarterbacks want no part of. Sounds familiar right? That's what they said about Darrelle Revis in his prime within the first 4 seasons of his career. On 32 coverage snaps, 19 of them were in press coverage, McDuffie allowed only one catch for 34 yards. In 8 starts now this season, he has let up only 158 yards. He's allowed the 10th-fewest passes allowed with a 53.3 % which is the second lowest among a Chiefs rookie corner since Marcus Peters. He continues to appear to be the league's next top corner.
Week 15 Losers:
1. Harrison Butker, Placekicker
The Chiefs place kicker, Harrison Butker, in my opinion is still one of the best kickers in the league. But he really struggled on Sunday.
With 14 seconds left in the second quarter, Mahomes found Marquez Valdes-Scantling for a 4-yard touchdown. Butker then missed the extra point. That missed extra point was part of the reason the game landed in overtime.
Late in the game, Butker missed a 51-yard field goal that would have given the Chiefs a win in regulation. Better days are likely ahead for the Pro Bowl kicker, but this was not one of them.
There has been speculation on if the issues are developing due to poor holds or a bad snap. Nonetheless, Butker gets the heat for the misses. This is something the team needs to get resolved before playoff time.
2. CARL CHEFFERS AND HIS REF CREW
Dear Roger Goodell, if you're reading this, PLEASE FOR THE LOVE OF GOD DON'T LET CARL CHEFFERS REF ANOTHER CHIEFS GAME. EVER. The Chiefs escaping NRG Stadium with a win was no easy task, especially thanks to the officiating of CARL CHEFFERS. Week 15 was yet another incident of Cheffers displaying some potential bias against the Chiefs when he failed to throw a flag on Texans defensive tackle Maliek Collins obvious roughing the passer penalty.
According to Fansided's Preston Farr's research, 21.9% of our total penalties have occurred in 14% of their games thus far (the two officiated by Cheffers). He added that this now marks the second season in a row in which Cheffers' crews penalize the Chiefs at the second-highest rate in football. Keep in mind, Andy Reid and his squad play one of the cleanest versions of football in the entire NFL.
Through Week 15, the Chiefs pick up the 6th-fewest penalties per game. They average just 5.1 per game. On Sunday, Cheffers and his crew flagged Kansas City a total of 11 times. The Chiefs came into this game as one of the top 5 least penalized teams and now after this game, it leaves a bad mark. Cheffers should never ref another Chiefs game if is bias towards our team continues. This is uncalled for and very unprofessional. He's probably in his feelings over the Week 5 MNF fiasco. How about call a fair game, CARL!