The Kansas City Chiefs Defeated The Seattle Seahawks In A Cold Christmas Eve Matchup
---
The Kansas City Chiefs defeated the Seattle Seahawks 24-10 in a defensive battle on Christmas Eve. The Chiefs move to 12-3 on the season and in 2nd place in the AFC. Meanwhile, the Seahawks fall to 7-8 while fighting for a Wildcard spot. Let's break it down.
Per weekly, Patrick Mahomes was phenomenal. He continues to solidify his MVP candidacy. In this one, through the air he went 16/28 for 224 yards and 2 touchdowns. He also had a rushing touchdown. He continually finds a way to impress. There is no denying how phenomenal his season has been.
Rookie Isiah Pacheco once again flexed his potential with continuously strong runs. He took 14 carries for 58 yards for an average of 4.1 yards per carry. He also had a catch which he took for 32 yards. The star rookie continues to impress. He is a workhorse who tears the ground apart when he runs. Kansas City fans should have high expectations for Pacheco for many years to come.
Veteran Jerick McKinnon continued his impressive performance throughout the month of December. He took 8 total touches for 38 carries and a touchdown. This puts him at 39 touches for 294 yards and 5 touchdowns across the last 3 games. He has truly been remarkable in recent games.
Both Pacheco and McKinnon will play valuable roles come playoff time.
The receiving game was all Travis Kelce. The superstar tight end took 6 passes for 113 yards. The connection Kelce and Mahomes have is surreal. They continue to be one step ahead of everyone else, forcing plays when needed.
Aside from Kelce, no one else saw a ton of targets in this one. JuJu Smith-Schuster caught 3 passes for 27 yards and Kadarius Toney had one catch for 8 yards and a touchdown.
The offensive line allowed just 1 sack, doing an overall good job of keeping Mahomes clean. They also created big holes up front for the running backs. They have been playing much better on this back half of the season.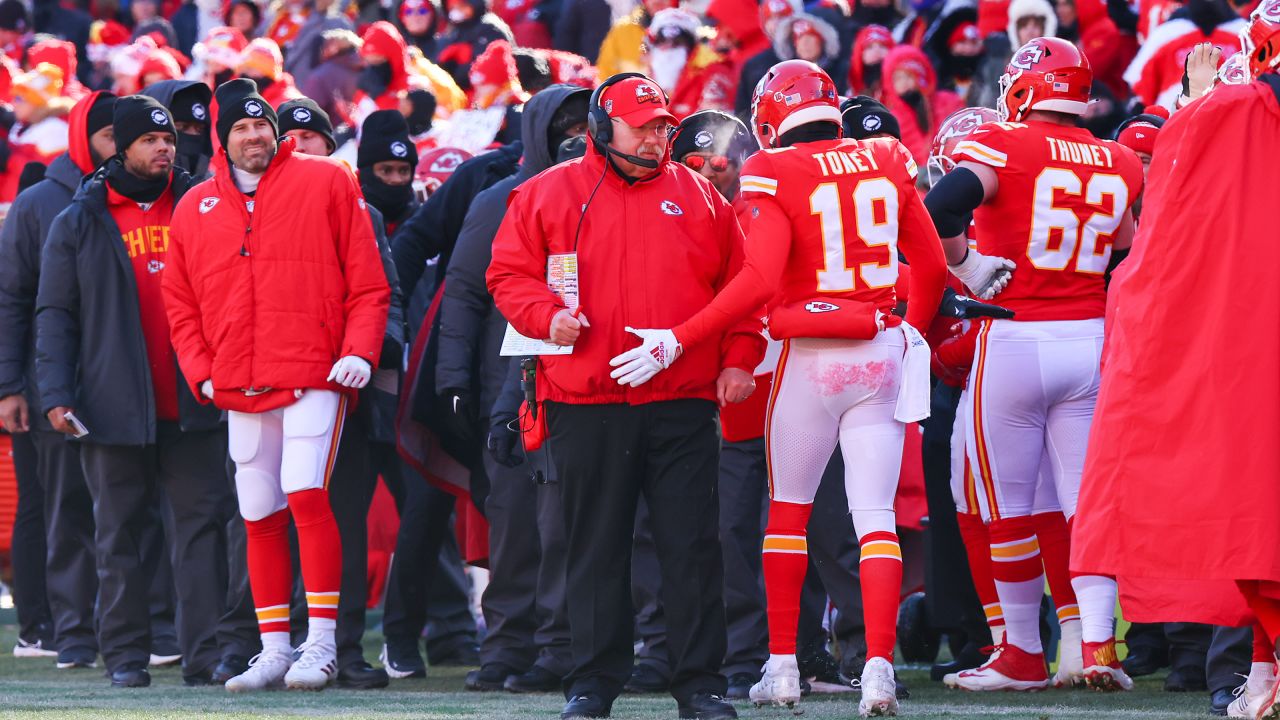 In a cold matchup like this, receivers are not expected to see 5+ targets. However, they are expected to make plays when their numbers are called. Kansas City's core did a great job of moving the football on crucial downs.
Kansas City's offense began stalling out near the end of the game. However, with a big lead, Andy will undoubtedly keep it vanilla. There should be no concerns regarding the end of the game's lack of production. The Chiefs offense looked great in this one when it mattered most.
Kansas City's defense had arguably their best game of the season. This chilly defensive battle ended with many different players making plays.
Nick Bolton led the team with a very impressive performance. He flew all over the field, constantly causing havoc. He ended the day with 17 total tackles. Bolton fell just 3 short of the NFL record for most tackles in a single game. He appeared to be playing with a chip on his shoulder after being snubbed from the Pro Bowl. I'd say point well made Mr. Bolton!
Willie Gay also made multiple plays. He had 9 total tackles, including a tackle for a loss along with 2 passes deflected.
Chris Jones put up 4 total tackles, including 2 tackles for a loss, a sack and 4 quarterback hits. He constantly put pressure on Seahawks quarterback Geno Smith. Along with rookie George Karlaftis who had a sack, a tackle for a loss, and a pass batted down on a big 4th down stop.
Juan Thornhill flew around in the secondary and nearly had an interception early. He later responded by making a nice grab for an interception in the end zone. He seems to be shutting down a majority of media hate in recent games.
Many other defensive guys put up big numbers as well. However, these guys led the way. The entire defensive unit played fast, physical football. Making big play after big play while including some monster hits. This unit seems to be playing with a giant chip on their shoulder.
This hopefully is a sign for good things to come as playoffs are closing in.
After a rocky past few games and much media criticism, Harrison Butker had a perfect game. He went 1/1 on field goals, hitting a 47 yarder. He also went 3/3 on extra points.
The entire team played a near perfect game in this one. Many issues appeared to be resolved and the team looked very impressive. If the team continues to play like this moving forward, nobody is stopping their Super Bowl run.
The Chiefs are set to host division rivals the Denver Broncos next Sunday afternoon in what will likely be another ice cold, smash-mouth battle.