Can Chiefs Rookie Linebacker Leo Chenal Be A Playoff X-Factor For The Team?
---
The NFL playoffs are about matchups and finding ways to create opportunities for certain teams' dynamic star athletes. While much of the attention will focus on each team's marquee names, the playoff teams that advance are typically the ones that have a few lesser-unsung hero type of guys step up in big moments. Basically those guys you don't hear a lot about during the regular season but bring their best game for last in the postseason.
These are the X-factors, those individuals who emerge or in the case of some well-traveled veterans, re-emerge in the spotlight of the postseason. Given some time to study the full playoff field for the Chiefs, I've come up with one X-factor for the Chiefs in the postseason tournament that could really make an impact that nobody saw coming. That player is Chiefs rookie linebacker Leo Chenal.
After cutting linebacker Anthony Hitchens and letting Ben Niemann go to the Cardinals. The team selected the star Badger defender with the No. 103 overall selection in the 2022 NFL Draft. While Chenal was forced to wait nearly all season for an opportunity to play on defense, the 22-year old has seen opportunity since week 14 and has been exceeding expectations. He has started earning consistent playing time over the last few weeks of the regular season as we start to go into the postseason.
I'm going to look at some of the good and the bad from Chenal's rookie campaign, along with a prediction of how this postseason and next season may play out for him. I'll explain why I believe he will be an X-Factor coming this postseason.
1. Leo Chenal is a freak athlete:
Seriously, look at Leo Chenal's numbers at the 2022 NFL Combine. He measured at 6'3" and 250 pounds, bigger than former Dolphins and Titans edge rusher Cameron Wake (6'2 3/4", 236 pounds), He ran a 4.53 40-yard dash time, faster than Derrick Henry (4.54), 34 bench press reps, stronger than Bengals running back Samaje Perine (30 reps), 40 1/2" vertical jump, higher jumping ability than Julio Jones (38 1/2) and a 10'8" broad jump, making him more explosive than Pro Football Hall of Famer Devin Hester (10'4") and again, Samaje Perine (9'8").
Those are scary freaky numbers for a linebacker. Similar to when the Chiefs drafted defensive tackle Dontari Poe in 2012 due to his combine numbers. The only way that freak athletes will work without wasting them is putting them in the position to win.
It's no surprise then that when you watched the way Pete Carroll utilized Bruce Irvin as both defensive end and strong-side linebacker when he first came into the NFL in 2012. Irvin competed with Super Bowl 49 MVP Malcolm Smith at the time for the starting job, a battle he won that led to one of the best linebacking groups (Bobby Wagner and KJ Wright) along with the one of the greatest defenses in NFL History (Seahawks Legion of Boom led by Richard Sherman, Earl Thomas and Kam Chancellor). I think Andy Reid and Steve Spagnuolo could and should utilize Chenal in same way down the stretch.
2. Scouting Report says he should be used more
The physical linebacker has outstanding power and toughness, making him tough to move between the tackles. The one player that Chenal comes close to with playing style is Connor Barwin, former Texans and Eagles outside linebacker who is a converted tight end.
Chenal is a fantastic athlete and a versatile football player. He brings the explosiveness and speed to be a productive pass rusher. Chenal is also a very intense competitor. At times he struggled with the subtleties of his pass-rushing role, an issue that can be easily coached.
Chenal's play recognition and technique both have to get better going forward. He has to prove he has the speed and fluidity to be a good open-field tackler. He has shown that in the last 2 weeks with increased snaps especially in the Texans and Seahawks games as of late. He's played a total of 48 total snaps in the last few weeks. He has shown the point-of-attack power and just like his first sack on Jaguars QB Trevor Lawrence in Week 10, he can be an effective inside blitzer.
3. How Spagnuolo and Big Red should utilize him going forward: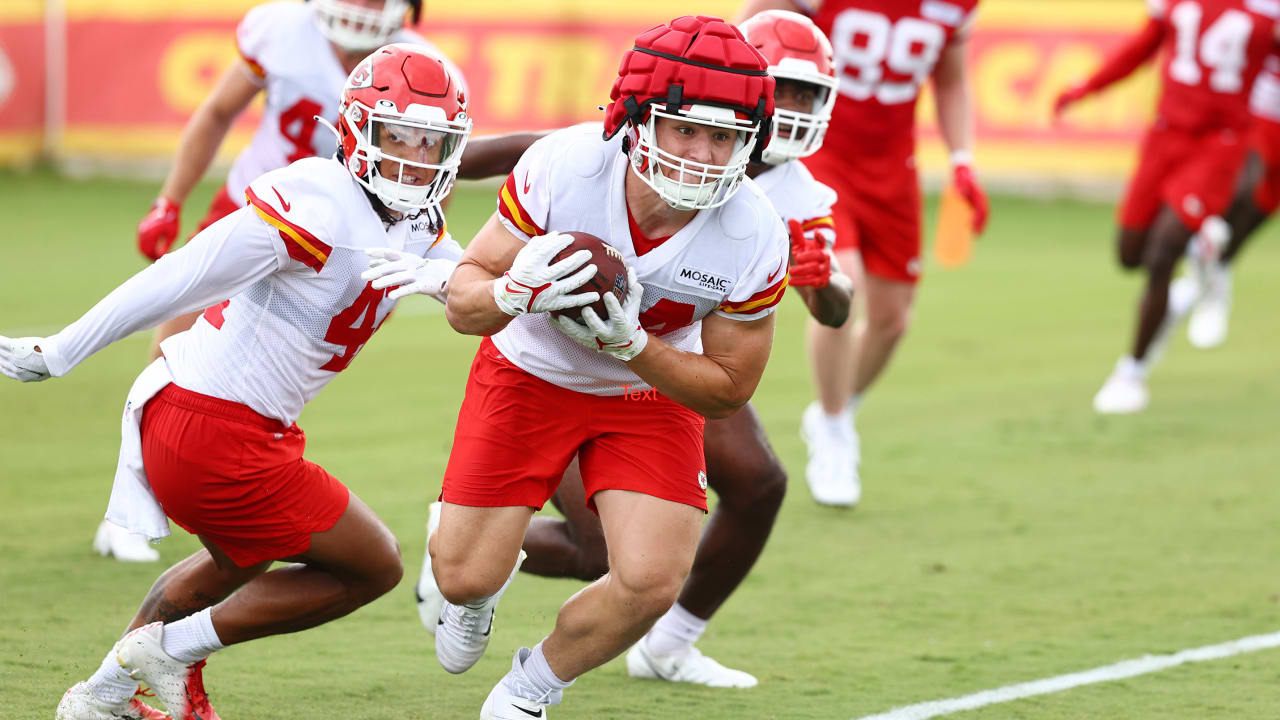 Just like I mentioned about Frank Clark, don't hold Chenal back. He has the talent to play with Willie Gay and Nick Bolton. I understand on passing downs, defenses use 2 backers instead of the traditional 3 backers especially in a 4-3 defense. However, Chenal's gifts and skill set should give him more playing time. He was part of last season's number 1 defense in the FBS at Wisconsin as one of their main defensive leaders.
Chenal was among the best linebackers in all of college football in 2021, racking up 115 tackles, 18.5 tackles-for-loss, 8 sacks and 2 forced fumbles in 2021. He finished No. 7 in the FBS in tackles-per-game (10.4) and No. 2 in tackles-for-loss-per-game (1.6), earning Big Ten Linebacker of the Year and First-Team All-American honors following the season. Chenal was one of only two FBS players with 115+ tackles and 18.0+ tackles-for-loss in 2021.
Remarkably, that's what led Chiefs general manager Brett Veach to select him the third round of the 2022 NFL Draft.
Pass Rush:
While Chenal technically qualifies as a 4-3 outside linebacker, the Chiefs should use him more like a 3-4 outside linebacker, which means that Chenal should frequently rush off the edge on passing plays. Chenal can explode off the snap with his deadly first step and turn the corner with his 4.53 speed as well as just about any edge defender in the NFL. His bull rush is his go-to move. He can almost always generate pressure with his primary bull rush.
Coverage:
He has more than enough athleticism to run with receivers outside and down the field but often looks lost when assigned with man-coverage responsibilities. This is a reason why Darius Harris has gotten more time over him. However, with Spagnuolo's ability to design plays and packages for his players, Chenal should get more blitz looks while either Bolton or Gay are covering the zone area of the field. That said, he's better at closing on shorter routes in front of him than he is at flipping his hips and getting depth.
Run Defense:
Due to his crazy burst off the line (1.50 10-yard split), Chenal is very good at crashing in off the edge or through his gaps (between the interior like in the Texans game). He also excels in making plays in the backfield and around the line of scrimmage. The rookie exhibits the power to push through tight end blocks and work toward runs. He does a better job at holding his ground when setting the edge against offensive tackles. Chenal has the speed to cover significant range in pursuit to running backs or ball carriers.
Conclusion:
Chenal can play a unique role for the Chiefs going forward. With his physical skill set, he offers amazing versatility.
If Spagnuolo gives Chenal that same trust he did Sneed, the Chiefs will have another diamond in the rough. Along with, a role-playing SAM that plays in the base down and distances and is asked to shoot gaps in run blitzes.
The rookie is a ery good tackler in the box and in space along with solid competitive toughness. Chenal can come on strong in these final weeks, showing the tools and production to become a key fixture in Spagnuolo's future defensive plans in 2023. Next time the Chiefs play the Bengals with Samaje Perine getting most of the touches, put Chenal on him. You'll thank me later.
Highlights Below (Watch Chenal at Wisconsin).
Leo Chenal hates QBs: https://www.youtube.com/watch?v=8rVw–63qXc