Why The Chiefs Should Resign WR JuJu Smith-Schuster
---
Kansas City Chiefs wide receiver JuJu Smith-Schuster is currently on a 1 year, $3.7 million contract and is set to become a free agent this offseason. He has been a fantastic addition to the Chiefs offense this season. Here is why the Chiefs should extend the star receiver.
JuJu has been a solid option for Mahomes this season. Despite battling a couple of injuries this year, Smith-Schuster has played in 15 games and started in 13 of them, with one more game to go.
Through those games, JuJu has caught 76 passes for 898 yards and 3 touchdowns. He has a chance to reach 1,000 receiving yards this next week. He has put together these great numbers despite essentially being the WR2 behind Travis Kelce.
JuJu has been phenomenal at making plays after the catch. Nearly half of his total yards have come after the catch. He currently ranks 14th in the league in yards after catch with 454 yards. He averages 6 yards after catch per reception.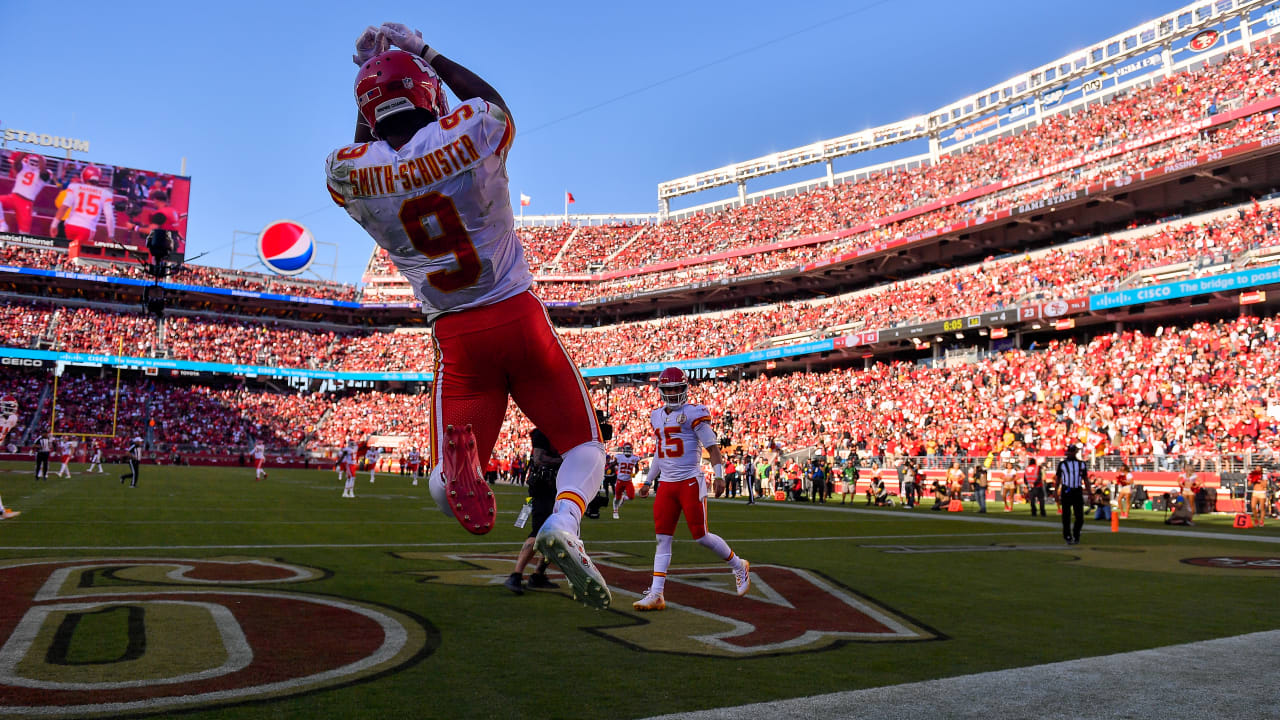 When targeting JuJu, Mahomes has a passer rating of 101.3. To put this stat into perspective, the highest QB passer rating in the league is 105.5. JuJu has quietly been one of the most consistent receivers this season.
He has played in 70% of possible offensive snaps, one of the highest amounts on the team.
As the season has progressed, Smith-Schuster and Mahomes have built up great chemistry. The developed connection has led to much more success for JuJu.
His 76 receptions account for 18.2% of Mahomes' completions and his 898 yards account for 18% of his passing yards.
JuJu has been a consistent backbone of the most successful offense in football all season long.
It is not uncommon to see production from everyone but a traditional receiver in an Andy Reid led offense. Nonetheless, JuJu has managed to come in and instantly make an impact. He has also proven to be a great blocker, a great sign that he is committed to doing whatever it takes to win. Seeing great downfield blocks from your WR1 is very rare in today's game.
This is JuJu's 6th year in the NFL and he has been a consistent option through all of those. Despite spending most of his time with the Steelers as a WR2 to Antonio Brown, JuJu managed to still put up great numbers and make an impact.
Through the 6 seasons of being in the league, JuJu has averaged 66.5 catches, 792.2 yards and 4.8 touchdowns a season. He has been very consistent and still will be in his prime for many years to come. He very likely is still yet to have the best season of his career.
Smith-Schuster has proven to be committed to excellence and is a great fit for Kansas City's offense.
While set to become a free agent in the offseason, I would like to see Smith-Schuster get signed to a long term contract. In my opinion, the perfect contract for JuJu somewhere around a 3 year, $18 million deal. Now that he knows the offense and is proven to bring success, he undoubtedly deserves a raise.
JuJu still has many great seasons left and has still not reached his full potential. As he continues to grow into this Kansas City offense and build chemistry, he could very well become a top receiver in the league. I would love to see the Chiefs keep him in Kansas City for many more years to come.