How The World Has Showered Demar Hamlin With Love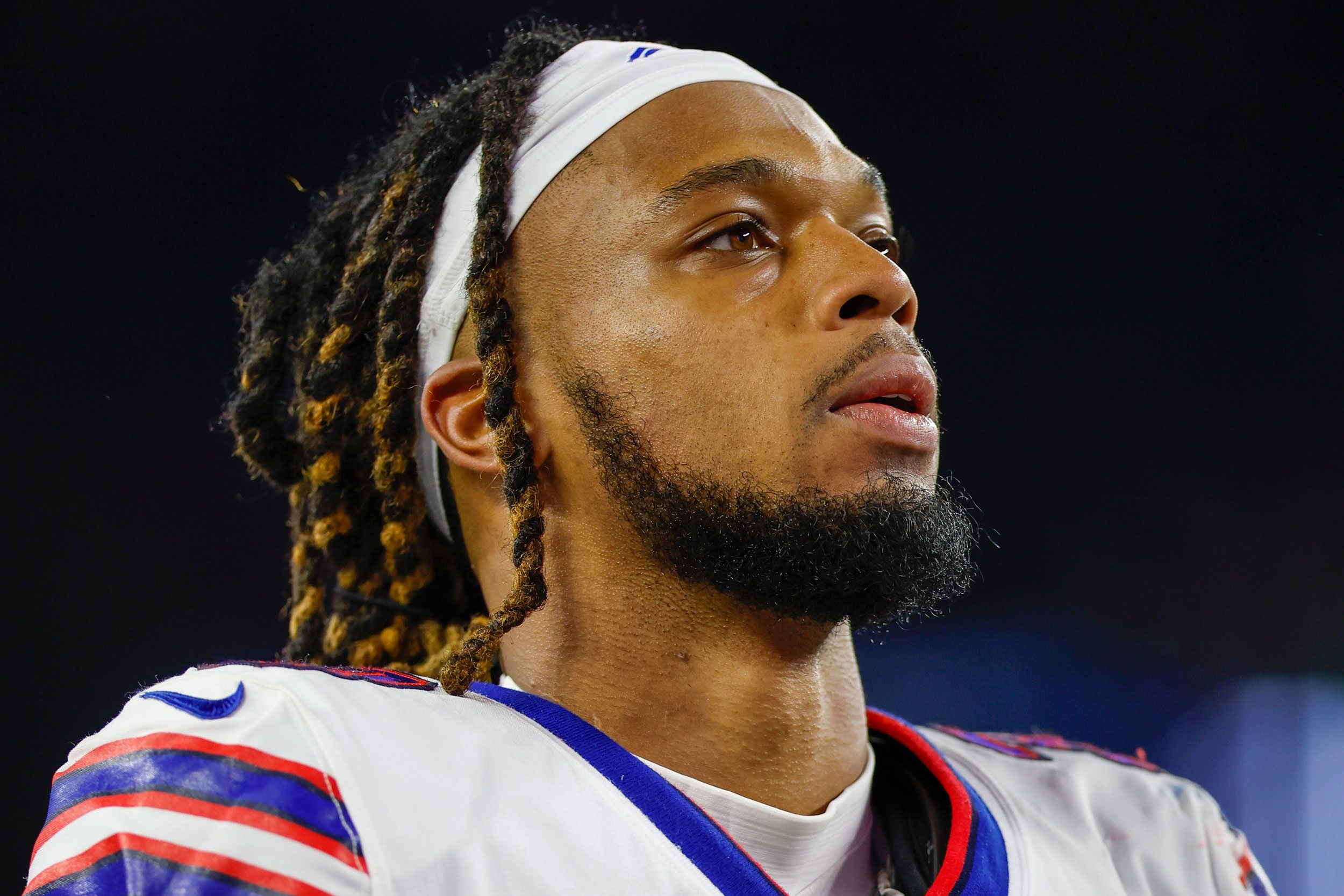 ---
What happened to Bill's safety Demar Hamlin was absolutely heartbreaking. However, the response from the NFL community has been nothing short of amazing. It is an unprecedented situation and how it has been handled has been perfect.
Personally speaking, when the game came back and Joe Buck said they were doing CPR on him, I immediately got chills up and down my spine. I've never seen anything like that before. It was a scary situation and seeing the looks on the Bills player's faces was heartbreaking. The NFL made the right decision to suspend the game. In that moment, the playoffs, fantasy football, and the game's final result did not matter. All that mattered was Hamlin's health. The NFL has had a player die on the field, Lions wide receiver Chuch Hughes in 1971. I was afraid we would see a second player die on the field.
Bengals players including Joe Mixon, Tyler Boyd, and Tee Higgins had tweeted out wishes. Joe Burrow hugged Josh Allen on the field. Zac Taylor visited Hamlin at the hospital after he left the stadium. The entire Monday Night Football crew was struggling to make it through the reporting of the story. Sideline reporter Lisa Salters choked up on TV reporting what was going on. That night, almost every single current and former player that is active on social media had tweeted about it. Patrick Mahomes tweeted "Praying hard.. please be okay man." The Chiefs tweeted out thoughts and prayers to Hamlin and the Bills.
The well-wishes didn't just come from the NFL world either. current NBA stars including LeBron James and Chris Paul tweeted out wishes to him and former Los Angeles Lakers forward Pau Gasol sent wishes to him. Twitter accounts for the NBA, MLB, and MLS, also posted wishes to Hamlin. Indiana Pacers player T.J. McConnell, who like Hamlin is a Pittsburgh native, wore Hamlin's jersey to the Pacers game on January 4th.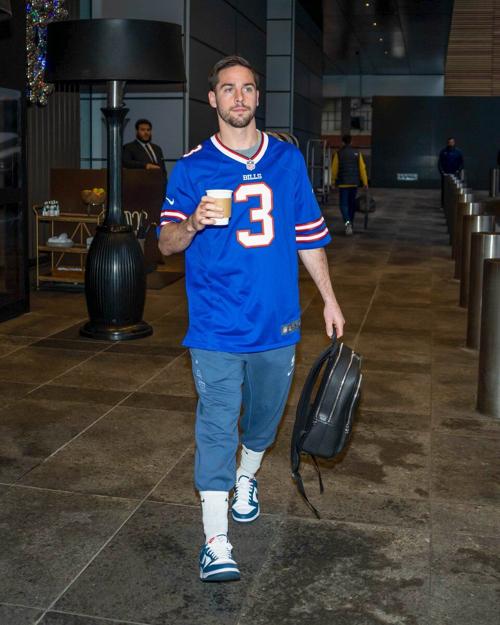 President Biden, who was already in Cincinnati, visited Hamlin's family in the hospital. After the visit, Biden spoke to reporters and said "You've got guys that are 6-foot-8, 340 pounds running a 4.8 40, hit somebody with that kind of force, now that's not what happened here. I don't know how you avoid it. I think working like hell on the helmets and the concussion protocols, that all makes a lot of sense. But it is dangerous, and you've got to just acknowledge it." On the 5th after the Bills tweeted that he had shown remarkable improvement, Biden tweeted that he and Jill are praying for him and his family.
The day after the game, every NFL team changed their picture on social media to the image below in honor of Hamlin. Several NFL teams also lit their stadiums blue and red, including the Chiefs, in honor of him. Fifth Third Bank, a bank in Cincinnati and sponsor of the Bengals, lit their downtown Cincinnati headquarters in blue and red.
One of the best parts of the support is what has happened with Hamlin's Go Fund Me for a toy drive he started during his senior year of college. After only initially wanting to raise $2,500, the drive hit $1 million within a couple of hours of Hamlin collapsing on the field. As of writing, it is at $7.7 million. A multitude of large donations have been made by players and other notable people. Donations have been made by current NFL players Matt Stafford, Russell Wilson, Tom Brady, Sauce Gardner, Mike Evans, Davante Adams, Andy Dalton, and Drake London, and former players including Ryan Leaf, Shannon Sharpe, Devin McCourty, and Jason McCourty.
Teams including the Colts, Patriots, Browns, and Commanders have donations. Current and former coaches Josh McDaniels, Wink Martindale, and Sean McVay have made donations, Journalists including Rich Eisen and Erin Andrews have made donations, as well as actor Eric Stonestreet, Olympic swimmer Michael Phelps, country singer Luke Bryan, Los Angeles Lakers owner and team president Jeanie Buss, pro wrestler Chris Jericho, and a multitude of businesses including New Era have made donations. There have been multiple donations made anonymously that may be notable people as well not wanting to bring attention to their donation.
Fanatics, the company that handles NFL jersey sales, has also announced that all proceeds from the sale of his jersey will be donated to his previously mentioned toy drive charity. As of the morning of the 6th, Fanatics reported that his jersey is not just the best-selling NFL jersey, but the best-selling jersey across all sports on their website. When you are outselling not just Patrick Mahomes, Tom Brady, and Josh Allen, but outselling other sports stars such as LeBron James, Kevin Durant, Aaron Judge, etc., that is an amazing story especially given the circumstances.
All the news about Demar Hamlin's progress has been promising. Each report gets better. As great as it would be to see him on the field again after all this, right now I would just like to see him be able to walk out of the hospital. The best updates so far have come as I was writing this article: he is breathing on his own. He also Facetimed into a Bills meeting where he told his teammates "I love you boys."
However, the league does have to get back to football this weekend. The league has handled how to move forward with the final week of the season and the playoffs the right way. Resuming the game would cause scheduling conflicts with the playoffs and could potentially result in the Super Bowl being postponed a week which could potentially cause problems for the city of Glendale, Arizona. The NFL's announcement about a possible neutral site AFC Championship is fair as well to all 3 teams impacted by the cancellation, the Chiefs, Bills, and Bengals.
A case could be made that it's unfair to the Ravens that the Bengals are AFC North Champions regardless of what happens this weekend in their game, especially since the Ravens would sweep the Bengals and have a better division record with a victory.
The sports world, not just the NFL, has come together in an unprecedented way for an unprecedented situation. Some things are more important than sports. I have to give a big personal thank you to the medical personnel who reacted swiftly and with purpose to ensure he pulled through. I cannot imagine what that was like for his family at that moment, but I continue to think about them in this rough time and hope the progress and the outpouring of support has given them some comfort.