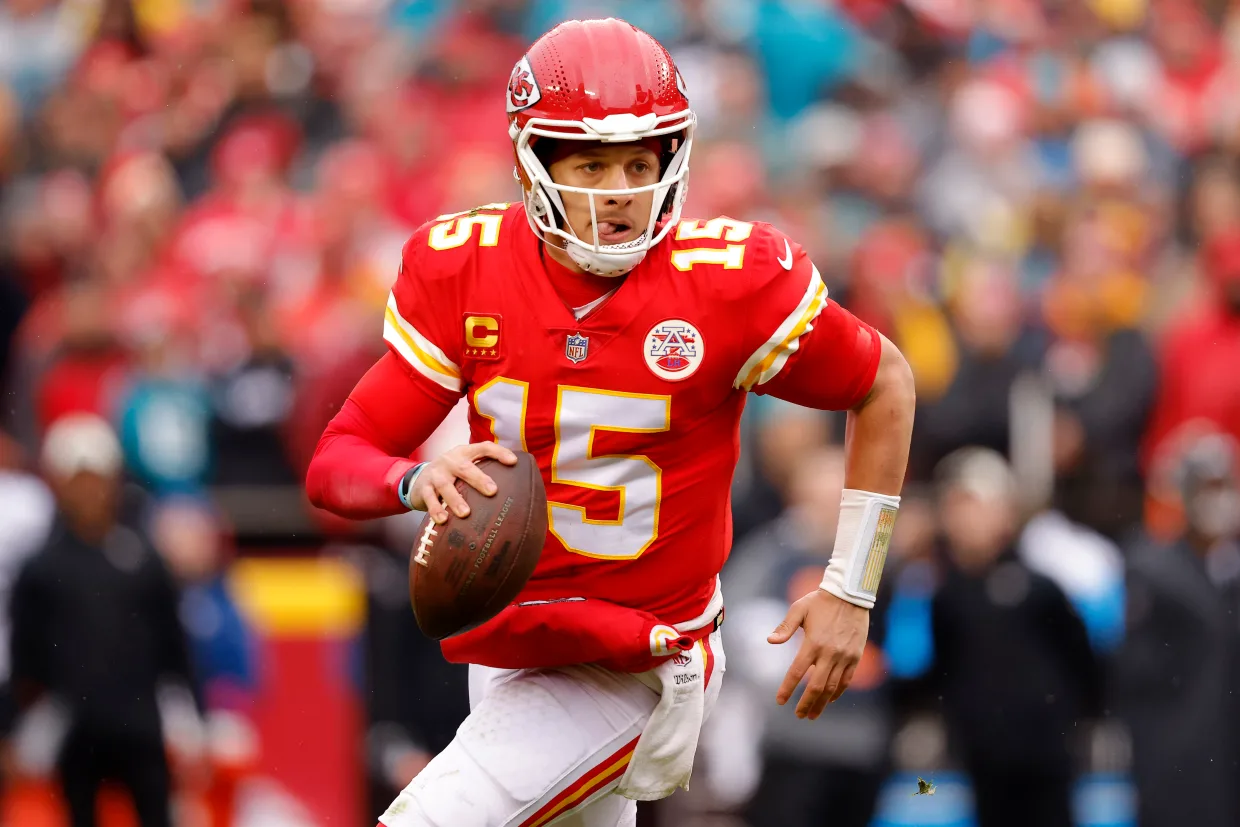 Photo by: David Eullitt/Getty Images
The Chiefs are going to the AFC Championship Game for the fifth straight season, as the Chiefs defeated the Jaguars, 27-20. Patrick Mahomes suffered an ankle injury toward the end of the first quarter after taking a low hit. He missed one drive, but shook off the pain and returned in the second half to lead the Chiefs to victory. Now the Chiefs will have to wait for the Bengals vs. Bills game to see if we play in Atlanta (if Buffalo wins) or back at home next week (if the Bengals win) but we will have to wait but the Chiefs still won and await one game away from Super Bowl 57 in Arizona. There were plenty of winners and losers from the Jaguars game and in this article i'll list the ones that stood and the ones that need to step it up.
Winners from Divisional Weekend:
1. Patrick Mahomes, QB
Despite his early 2nd quarter ankle injury, Mahomes becomes the first quarterback in NFL history to lead his team to five conference championship games before turning 30 years old, while the Chiefs will become the third team to make five straight conference championship games, matching the Oakland Raiders from the 1970s, and the 2011-18 New England Patriots. Mahomes completed 22 of 30 passes for 195 yards, 2 touchdowns and no interceptions in Saturday's 27-20 win over the Jaguars. He added three rushes for eight yards. He showed why's the MVP. He gets to rest and get ready for his 5th straight AFC Title game next week.
2. Travis Kelce, TE
The Chiefs jumped out to a 17-10 halftime lead thanks to 2 touchdown catches from star tight end Travis Kelce. His 10 catches in the first half tied the record for most receptions in a first half of a playoff game since 1991. The best tight end in the NFL finished with 14 catches for 98 yards and 2 TDs. With his two touchdowns, Kelce now has 14 touchdown receptions in the playoffs. He trails only tight end Rob Gronkowski (15) and Hall of Fame wideout Jerry Rice (22).
Zeus is a big reason why the Chiefs are advancing to the final four, but its offensive efficiency as a whole was impressive. He provided a reliable outlet for Chad Henne when Mahomes went down, and though he looked a bit nervous in the second half, he still managed to make a huge impact on the game's outcome thanks to Kelce's presence.
3. Chad "HenneThing is Possible" Henne, QB
No MVPat, No Problem. The Chiefs showed that roster is deep especially when it's structured like a roster with a very young talented QB with a veteran in the room who has more experience and Chad Henne proved that. I know Doug Pederson was thinking about Nick Foles when he saw Henne out there. The 37-year-old former Jaguar, who has not started a game in eight years, completed his first ever playoff touchdown pass in the second quarter to Travis Kelce after leading Kansas City downfield for a 98-yard drive, which gave them a 17-7 lead. Henne completed 5 of 7 passes during the drive that gave the Chiefs the lead before halftime. Mahomes returned after halftime and finished things out, and he intends to start next week's AFC title game. But Henne proved once more the importance of a capable backup quarterback, an often-thankless job typically filled by failed starters, players long past their prime or young prospects not yet ready to take over a team. Henne is former starter that has helped Mahomes to understand his reads and mechanics that he worked on during these last five seasons.
4. Frank Clark, DE
Frank Clark looks like the guy that made the Chiefs trade for him in 2019. He's the Chiefs' most seasoned defensive postseason veteran with now 15 games under his belt. Clark showed off the speed as he got to Jacksonville Jaguars quarterback Trevor Lawrence on 4-yard sack, moving him to a tie with all-time great Reggie White for 4th-most postseason sacks. Clark made a few other noticeable plays where he channeled his inner Shawn Michaels, helping the defense close out a really nice game with turnovers. I wrote that Clark was gonna be an X-Factor for the playoffs. I know he's looking to sack Joe Burrow or Josh Allen next weekend.
5. Harrison Butker, K
Butker has been one of the best kickers in the NFL for the past few seasons, but he has struggled with injuries and some misses this season. This season, Butker is 18-24 on field goals and 38-41 on extra points. His six missed field goals are the most in his NFL career. However, He was clutch vs the Jaguars. Harrison Butker made two 50 yard field goals, made all of his extra points and he saved the Chiefs season by tackling Jaguars returner Jamal Agnew on his kickoff return in the 4th. It's time to back off of Butker. I am glad he's got his confidence back and him and unit are working well together.
Losers from Divisional Round:
1. The Special Teams Coverage Unit
I should've made a Part 4 of how to fix the Special Teams with the kickoff coverage because once again Special Teams could've been the reason why we lost. It was not Field Goal, Kick return nor Punt return, It was the coverage unit who couldn't stop Jamal Agnew. Agnew returned two kicks that made our coverage unit look terrible and lost. On the 2nd big kickoff return by Agnew, he looked like he was going to take it to the house and help the Jags cut down on the Chiefs' margin in the fourth quarter. However, Butker saved the day, by grabbing and slip up the returner before he was able to break completely free from the Chiefs kick coverage team. Once again, these problems are going to hurt and it could hurt us next week if we don't fix this. Imagine Nyhiem Hines returning them kicks on us. Not good.
2. The TV analyst and journalist that said the Chiefs won't make to the playoffs
Well, I won't name no names but C'mon y'all? You guys thought the Chiefs wouldn't make the playoffs because of one player? You saw them issues in the playoffs last week that we had last season with drops. The Chiefs knew what they were doing. They were playing chess when everyone else was playing Checkers. To those ESPN and Fox Sports and some NFL Network guys that choose against us, stay that way. We don't need more Bandwagon fans.