"Returning Chiefs" is an offseason series with each entry focusing on one player that we know will be returning to the Chiefs next season. With so much change expected to come, the returning players will be more important than ever in the pursuit of another Super Bowl championship. Many of these returning players will be asked to take on larger roles in production and leadership and Chiefs fans should know who those players are and what we should expect from them.
I think it's time we talk about our returning defensive cornerstone.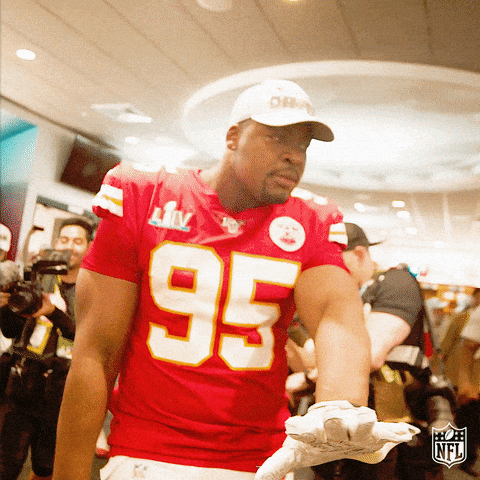 We talked about Chris Jones' returning running mate Derrick Nnadi in the last edition, so let's go ahead and show some love to the Sack Nation CEO.
He's Back…But on What Terms?
Chris Jones is only under contract for next season as of this writing and players of his caliber usually avoid contract years if possible. With an expected 2023 cap hit of over $28 million for Jones, I'd be surprised if the Chiefs aren't motivated to get a deal done as well.
It feels like there's at least some traction on a new deal for Jones. In 2020 when he and the Chiefs were working out a new contract, Jones was much more public and vocal about wanting a new deal. This offseason has seemed quieter on that front. Granted, there are other factors at play this time around. Jones is a few more years more established. His value speaks for itself, so he may not feel the need to push the issue. Additionally, the Chiefs are coming off of a Super Bowl championship this off-season. They say winning cures all and it might've just bought some peace and patience in these contract negotiations.
I'm in the camp of paying Chris Jones and keeping him around. Not only has he steadily improved during his time in Kansas City, but 2023 took that to a new level. Under a new position coach, Jones was much more of a focal point and exploded to the tune of being the best interior player in the NFL last season. You don't pull the plug on a trajectory like that at a premium position. Especially when that player is one of the faces of your franchise and a leader on and off the field.
DPOY Finalist to MVP?
The MVP reference is mostly because of Chris Jones' tweet over the weekend:
I'm going to Win MVP

— Chris Jones (@StoneColdJones) April 9, 2023
While it's unlikely any defensive player will win the NFL's "best QB" award, we have seen defensive players garner MVP love and votes with dominant campaigns. Chris Jones was as dominant as he's ever been last season, truly establishing him as a household name around the league. If he were to duplicate his performance, or even take another step forward, it wouldn't shock me to see him in the conversation alongside his quarterback.
Chiefs Fans Should Be Celebrating
Whether he has a new deal or is playing out a contract season, Chiefs fans should be happy to have Chris Jones in the red & gold for however long we get to see it. He's truly one of the all-time greats of the organization and is one of the main faces of this golden era of Chiefs football. He's pretty damn good at football, too, routinely helping cover up other issues on the defense and continuing to expand his game even into year 7.
We're lucky to have #95 patrolling the middle of the trenches and I'm hoping we get some news soon that solidifies his status as a lifelong member of the Chiefs.