Jarrod Thurman @JarrodChiefsFCS  Chiefs Focus @Chiefsfocus
A year ago I wrote about the best and worst-case scenarios for the Chiefs. Well, the best-case scenario happened, the Chiefs won the Super Bowl and will enter the season as defending champs. I will go over both for the 2023 season. Everything mentioned in this article is purely hypothetical and is not a prediction.
Worst case
Patrick Mahomes finally gets figured out, like a handful of analysts have predicted would happen. He throws for a career-low in yards per game (I'm using yards per game because he threw for 4,000 yards in 2019 and we're in 17-game seasons game) and touchdowns while throwing a career-high in interceptions. He throws 275 yards per game which is good for 4,675 yards. He also throws 25 touchdowns and 15 interceptions. The ironic thing about this is that's a good season for some quarterbacks, but not what we've come to expect from Mahomes. With all this, that would most likely give him a career-low in quarterback rating. With these statistics, if he hits his average completion percentage on 600 attempts, that's a 93.6 rating.
Travis Kelce's age finally catches up to him. He breaks his 1,000-yard streak and only records 900 yards over 17 games for a career-low 52.9 yards per game. He only gets one 100-yard game when he averages about 4 a season in his career. He ties a career low for touchdowns in a full season with 4.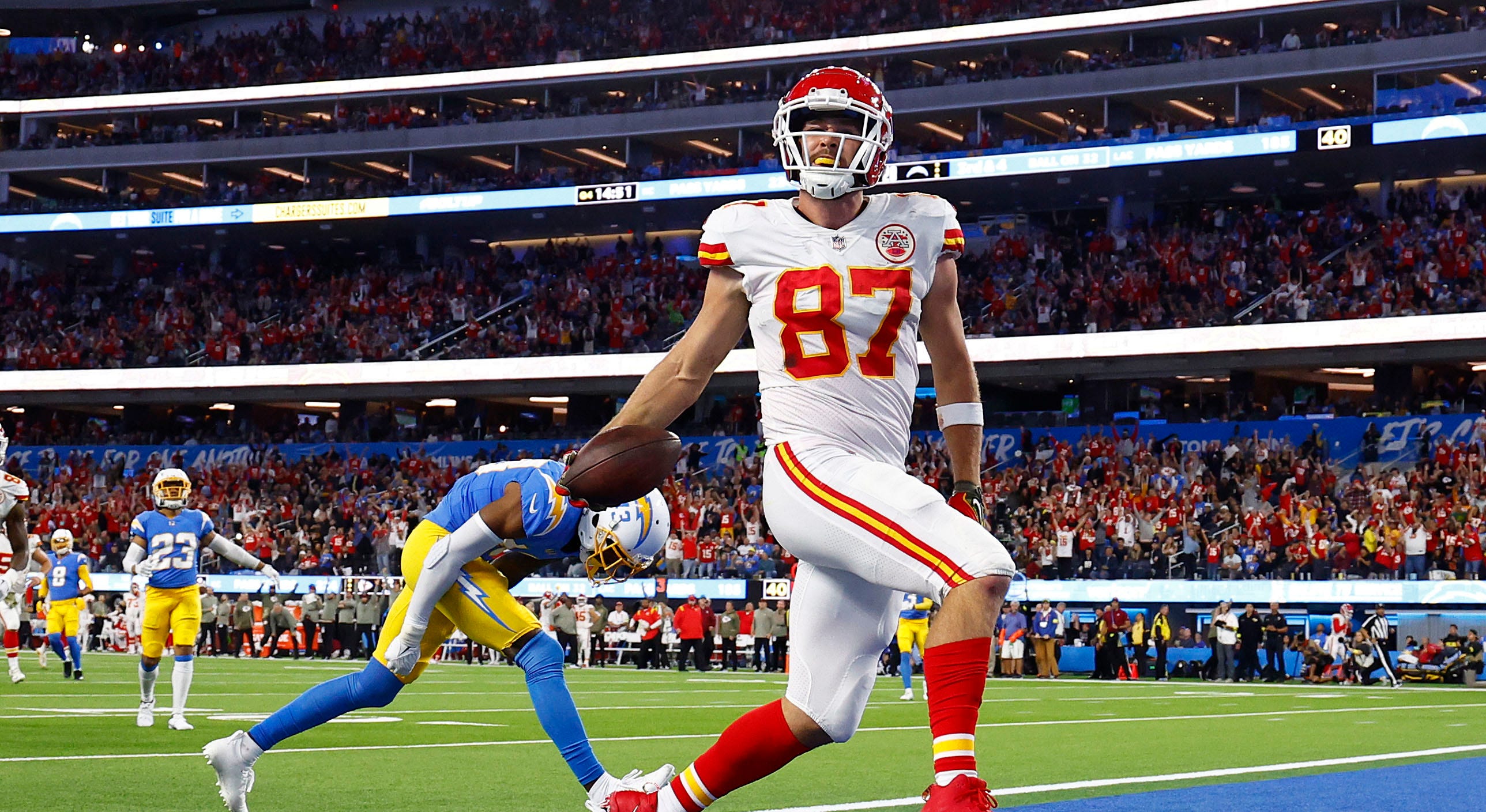 The Chiefs record a low in points per game under Patrick Mahomes with 27 points per game. The defense regresses and allows 25 points game. For the first time under Mahomes, the offense misses the top 10 in yards.
Now finally the record. The Chiefs have a schedule that could be very sneaky in how difficult it winds up being. The worst possible record I see this team having is 6-11. I'm sure it doesn't need to be said but I'll say it anyway, they miss the playoffs for the first time since 2014. With a brutal start to the season, they begin 2-3 with wins over the Lions and Bears and back-to-back losses to the Jets and Vikings. They end that with a win over the Broncos to go to 3-3. They follow that up with 4 straight losses to the Chargers, Broncos, Dolphins, and Eagles before ending it over the Raiders. After that, they drop back-to-back to the Packers and Bills before winning back-to-back to the Patriots and Raiders but finishing with back-to-back losses over the Bengals and Chargers.
Best Case
Patrick Mahomes rewrites the record books and breaks Peyton Manning's single-season yards and touchdowns marks while having a career-high in completion percentage and quarterback rating. He throws for 5,500 yards, 57 touchdowns, and 6 interceptions. He hits a completion percentage of 68 and has a quarterback rating of 118.5. Needless to say, that makes him the 7th player to win back-to-back MVPs.
Chris Jones records the 3rd most sacks in a season in franchise history behind Derrick Thomas's 20 in 1990 and Justin Houston's 22 in 2014 with 19. He becomes the first player in franchise history to win Defensive Player of the Year.
After what was statistically the worst season of his career, Harrison Butker becomes the 4th player in NFL history to not miss a single field goal (minimum 20 attempts) and silences the people who were calling for his job last year. He earns his first 1st team All-Pro selection.
The Chiefs receive a franchise record 10 Pro Bowl selections with Patrick Mahomes, Isaiah Pacheco, Travis Kelce, Creed Humphrey, Trey Smith, Jawaan Taylor, Chris Jones, Nick Bolton, Harrison Butker, and Tommy Townsend all getting selections. Of these, Mahomes, Kelce, Humphrey, and Butker are also All-Pro selections.
Record-wise, it is tempting to say an undefeated season is a best-case scenario, but we gotta be realistic. There's good reason why only two teams since the merger have finished the regular season undefeated and only one of those also won the Super Bowl. The best case scenario is going to be a 16-1 record with the 1 loss being one of their road division games, most likely this would be the road game against the Chargers which means yes they start 16-0 before suffering their first loss. The Chiefs finish in the top 10 in scoring offense and defense.
In the playoffs, the Chiefs obliterate their opponents blowing out the Dolphins and Bengals en route to their 4th Super Bowl appearance in the last 5 seasons. They defeat the 49ers in the Super Bowl by double digits once again (without a comeback being necessary this time) to win their 2nd consecutive Super Bowl.
Once again, these are not actual predictions, just hypothetically speaking, the worst and best possible outcomes for the 2023 season for the Chiefs.