Jarrod Thurman @JarrodChiefsFCS Chiefs Focus @Chiefsfocus
Who is on the Chiefs' all-time team? There's a handful of players that would be on everyone's list (Derrick Thomas comes to mind) and some positions that could be up for debate. I will do it with 12 players on defense and offense both and will include special teams. I will do honorable mention on a couple of positions, but not all positions.
Quarterback
Five years ago, this would have gone to Len Dawson. Since then, a man by the name of Patrick Mahomes has taken the team by storm. He has rewritten the franchise passing record book and already has his sights set on Len Dawson's career yards and touchdowns records. At only 27, he has already etched his name among the all-time greats. Honorable mention: Len Dawson
Running back
Jamaal Charles is the franchise record holder for yards in a game and career yards both. He is 3rd in franchise history in yards from scrimmage behind two players I'll mention in a little bit. He does get a lot of recognition but not as much as he deserves. Honorable mention: Priest Holmes.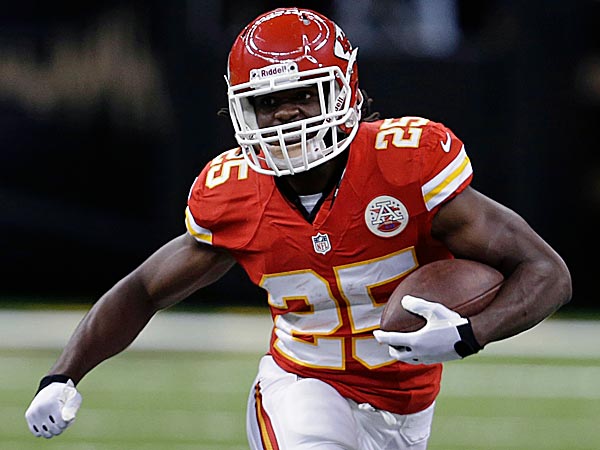 Fullback
With this I'm going with the more modern fullback position instead of the early position like Jim Brown, who most people don't realize was a fullback, played. Tony Richardson played a huge role in those dominant early 2000s offenses ensuring Priest Holmes had plenty of space and that Trent Green had plenty of time to throw the ball, even occasionally touching the ball himself. Honorable mention: Anthony Sherman.
Wide Receiver
Otis Taylor was the first great Chiefs receiver and deserves to be in the Hall of Fame. He is the franchise leader (among wide receivers) in receiving yards and touchdowns. Tyreek Hill is the latest Chiefs player to leave the franchise and upset Chiefs fans with statements he's made, but we can't deny what he accomplished in his 6 seasons with the Chiefs. He left the Chiefs 3rd among receivers in yards and 2nd in touchdowns. Honorable mention: Dwayne Bowe
Tight end
Here's one of the more controversial ones, even though it shouldn't be. I'm going to pretend the Chiefs run a 2 tight end set that sometimes gets swapped for a fullback on this fictional team. I just cannot count out Tony Gonzalez or Travis Kelce. These two men are 1st and 2nd in franchise history in receiving yards and touchdowns AS TIGHT ENDS! What other franchise can say that? What other franchise can say they had two of the greatest tight ends in NFL history? The answer is none. No other team has two tight ends that are top 10 among tight ends in NFL history in receiving yards and receiving touchdowns. I just cannot leave either out despite some of Tony Gonzalez's comments.
Tackle
This is another position where we will see two different eras represented. Jim Tyrer was a member of the Super Bowl IV Championship team. He also was a 10-time All-AFL/All-Pro selection and a 9-time AFL All-Star/Pro Bowler. He's probably one of the most underrated tackles in NFL history despite that resume. Mitchell Schwartz may have only played for the Chiefs for 5 seasons, but he accomplished a lot in those 5 seasons. He didn't miss a single snap until that 5th season and all 4 seasons he played the entire season he was named an All-Pro but somehow was never named to the Pro Bowl.
Guard
The all-time guards for the Chiefs were teammates and were a part of one of the best offensive lines in NFL history. Will Shields is in the Hall of Fame. In 14 seasons with the Chiefs, he was named All-Pro 7 times and named to the Pro Bowl 12 times. Brian Waters was named All-Pro twice and as a member of the Chiefs was named to the Pro Bowl 5 times.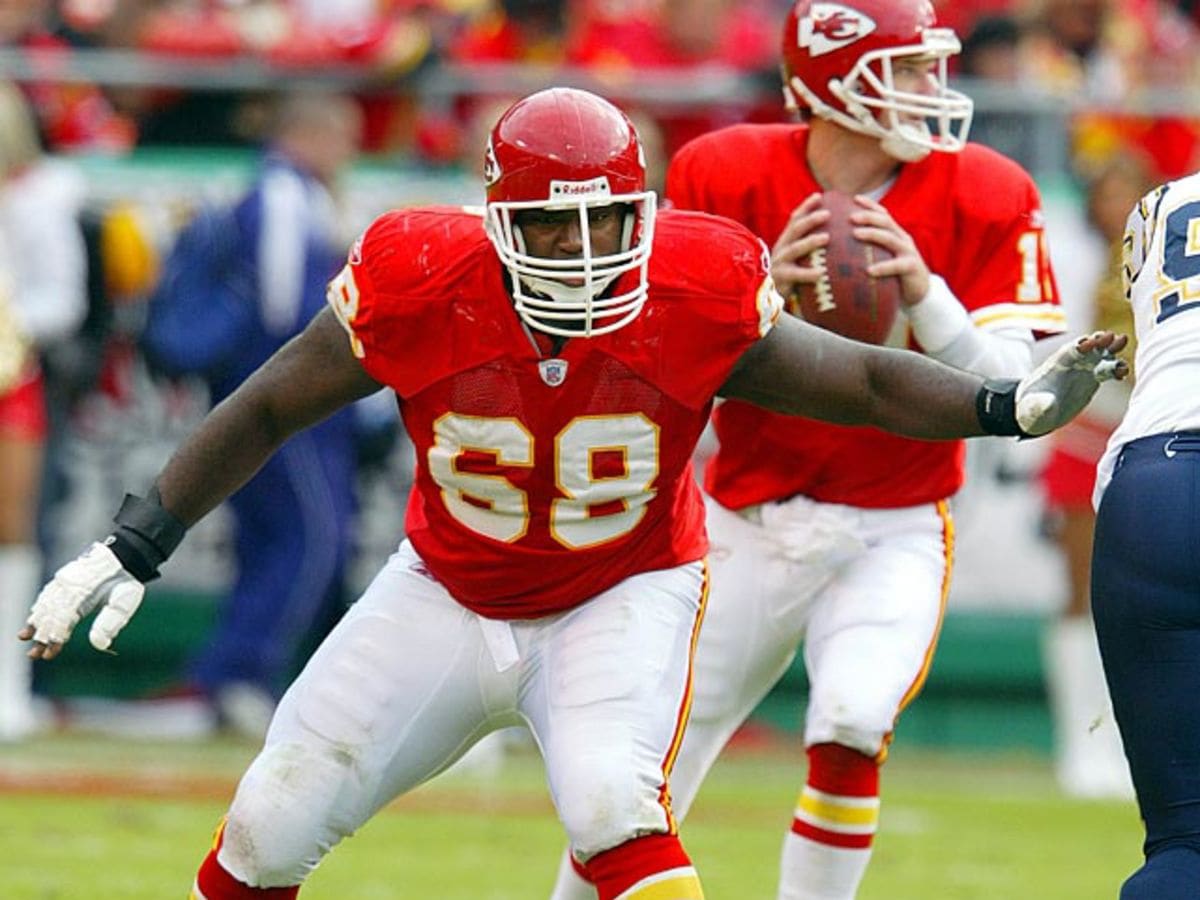 Center
This is a position that people could have different opinions on. Some might choose who I'll give as an honorable mention but my pick is Jack Rudnay. He was a member of the Super Bowl IV Championship team. He was named to the Pro Bowl or AFL All-Star game 8 times in 14 seasons. He's a player typically forgotten by most younger Chiefs fans but he was a great center. Creed Humphrey is a couple of seasons away from taking over this spot. Honorable mention: Tim Grunhard.
Defensive end
Neil Smith was a member of those dominant early 90s defenses. He's still 3rd in franchise history in sacks. In his time with the Chiefs, he was named All-Pro 3 times and to the Pro Bowl 5 times. The other defensive end was a little harder but I'm going with the other Ring of Honor member who's a defensive end, Art Still. If you include sacks from before they were officially counted beginning in 1982, he left the team as the franchise's all-time leader in sacks. He was named All-Pro twice and Pro Bowl 4 times
Defensive Tackle
This is one that would be unanimous among most Chiefs fans, especially if you know your Chiefs' history. Also, another one representing the early years and the modern era. In his 13 seasons with the Chiefs, Buck Buchanan was selected to the AFL All-star game/Pro Bowl teams 8 times and was named All-AFL/Pro 7 times. His unofficial sack total (unofficial because sacks were not officially counted until 1982) still has him sixth in franchise history. With 14 sacks in 2023, Chris Jones can move from 8th in franchise history (including unofficial sacks prior to 1982) clear up to 4th. He's the best current interior defensive lineman not named Aaron Donald.
Outside Linebacker
Come on, this is one of the easiest ones on here. I'm sure I don't have to elaborate but I will anyway: Number 58 forever, Derrick Thomas. The Hall of Famer is first in franchise history by an astonishing 38 sacks. Since his death, only Tamba Hali has come within 60 sacks of his total (Say what??!!). The other outside linebacker is another Hall of Fame outside linebacker, Bobby Bell. Bell was selected All-Pro/All-AFL 8 times in his 12-season career and was named Pro Bowl/AFL All-Star 9 times in his career. Honorable mention: Tamba Hali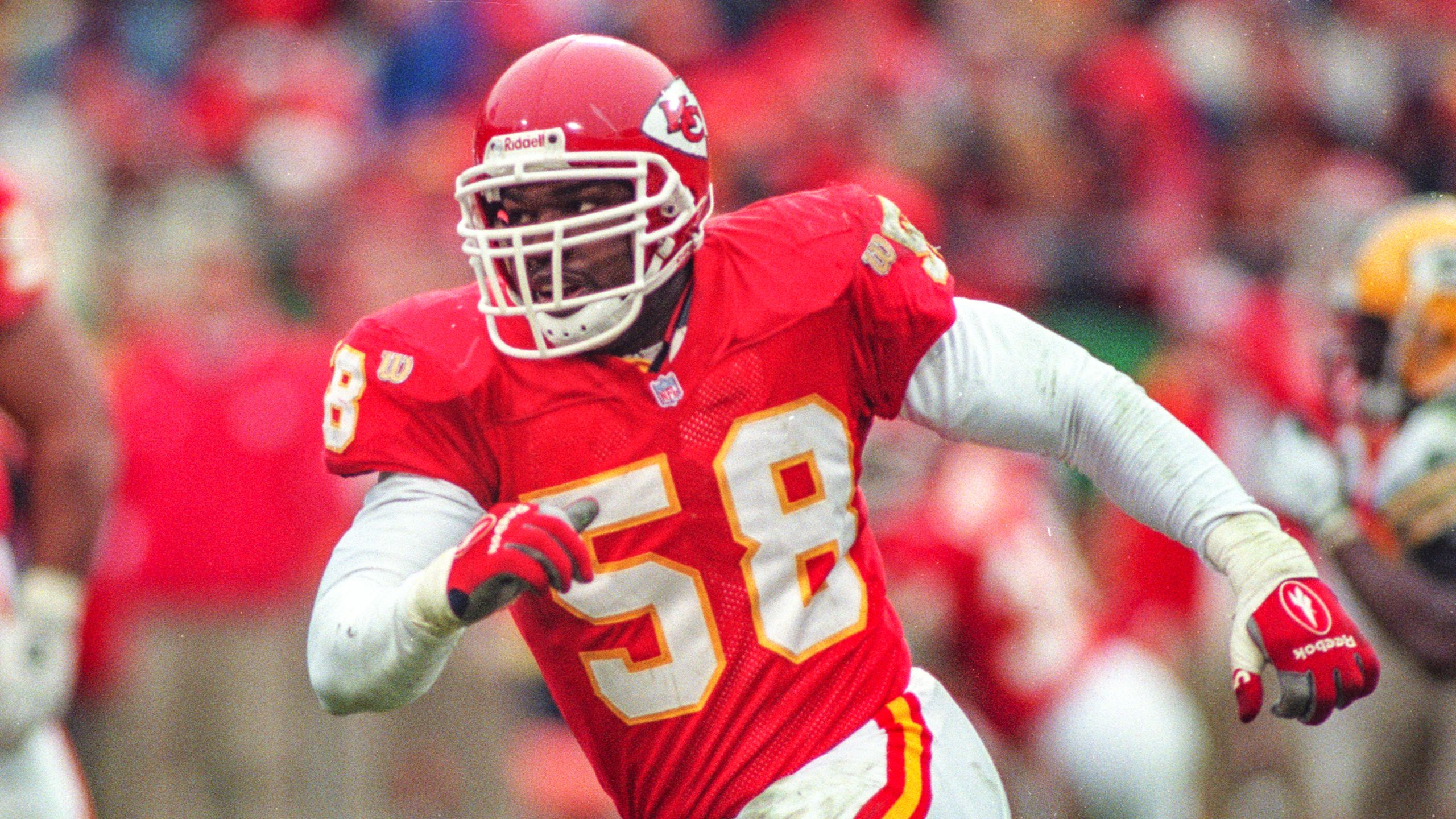 Middle/Inside linebacker
Derrick Johnson recorded the most tackles in franchise history. He recorded 1,154 tackles in 13 years with the Chiefs. He also had 14 interceptions, 3rd most in franchise history among linebackers. One of those linebackers with more is Willie Lanier, the other inside linebacker. Due to stat keeping at the time, the only official stats I can mention are interceptions and fumble recoveries, and only Derrick Thomas had more fumble recoveries. He was named All-Pro/All-AFL and Pro Bowl/AFL All-Star in 10 of his 11 seasons.
Cornerback
Emmitt Thomas is one of the most underrated cornerbacks in NFL history. He never gets the credit he deserves. His 58 interceptions is still good for 12th in NFL history and he retired 5th but for some reason, it took 25 years to induct him into the Hall of Fame. Albert Lewis, because of the era he played for the Chiefs, doesn't get the credit he deserves either. He was named All-Pro twice and Pro Bowl 4 times. Hall of Famer? Eh probably not but his name deserves to be mentioned with the best corners of the 80s in the NFL.
Safety
Johnny Robinson has more interceptions than legends like Aeneas Williams, Darrell Green, Ty Law, Deion Sanders, and Champ Bailey but seems to be forgotten when the best safeties in NFL history get mentioned. He's tied for 6th all-time in interceptions among safeties. It took him 33 years of being eligible to be inducted into the Hall of Fame. Most younger Chiefs fans would probably pick my honorable mention selection for the other safety but I'm going a different direction. Deron Cherry played 11 seasons for the Chiefs recording 50 interceptions. He was named to the 80s All-Decade team as well. Yet somehow his name gets forgotten with the best safeties of the 80s. Honorable mention: Eric Berry.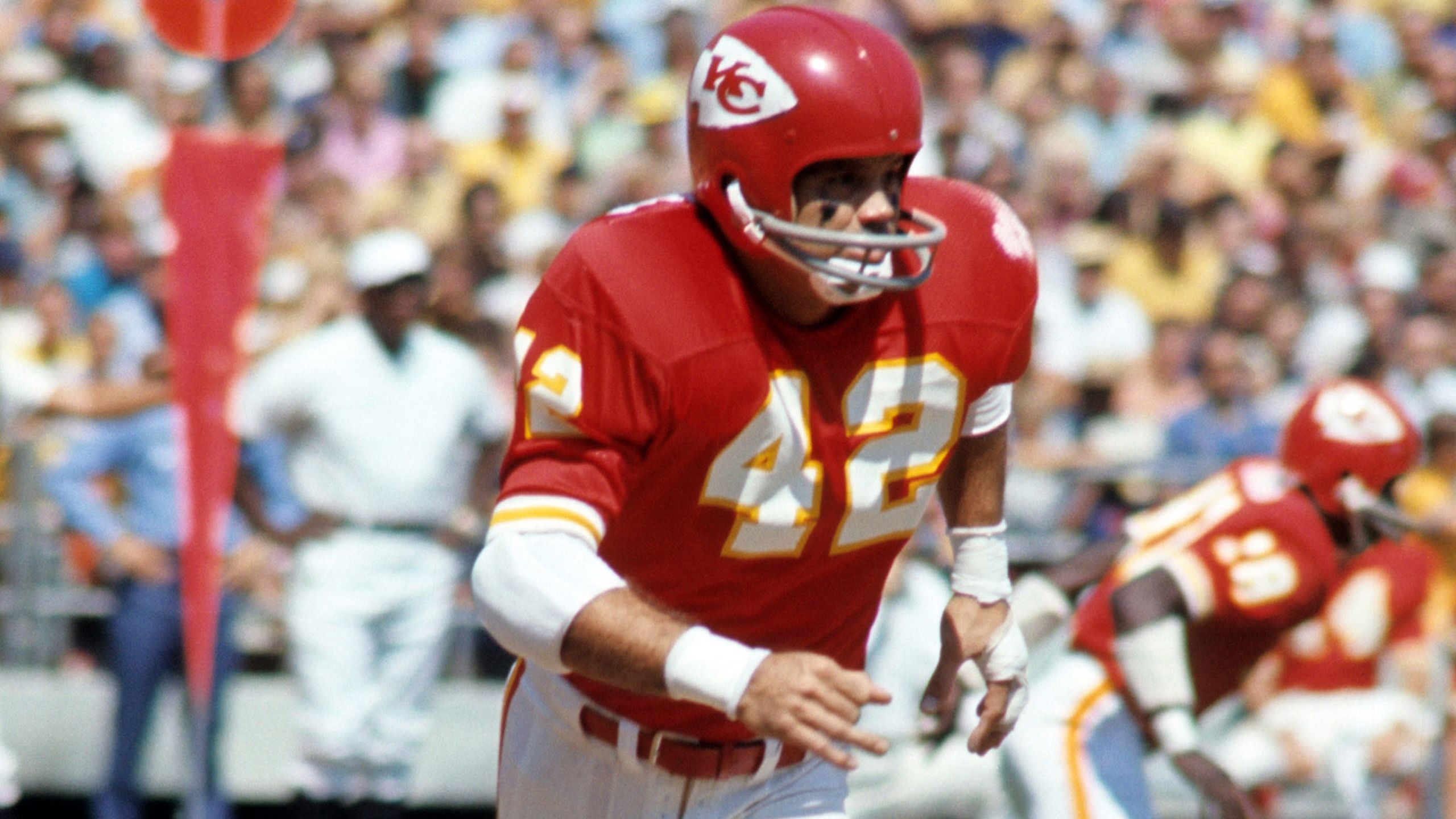 Kicker
Despite the worst season of his career in 2022, Harrison Butker is statistically the best kicker in franchise history. He has the highest field goal percentage. He is also the only kicker in franchise history (minimum 20 attempts) with no misses under 30 yards. Half of his misses are on 50+ yard field goals. He has the longest and 3rd longest made field goals in franchise history. His only missed clutch field goal was blocked and he is the 3rd most accurate kicker in NFL history. He's really good on kickoffs too. Among kickers with at least 20 kickoffs, he is first in franchise history in touchback percentage.
Punter
Another easy one. Dustin Colquitt is the most accomplished punter in franchise history. He was named to 2 Pro Bowls. He owns franchise records for punts, punt yards, yards per punt (minimum 200 attempts), net punting yards (minimum 200 attempts), and punts downed inside the 20. He also played more games than any player in franchise history and is tied for most seasons played for the team. Honorable mention: Jerrel "Thunderfoot" Wilson
Return Specialist
Back-to-back easy ones here. The X-Factor, The Human Joystick, aka, Dante Hall. One of the best return specialists in NFL history. Dante Hall had 11 return touchdowns in his time with the Chiefs. He was a Pro Bowl kick returner twice. He was named to the 2000s All-Decade team as a 1st team Punt Returner and a 2nd team kick returner. Honorable mention: Tamarick Vanover.
There you have it, my All-time Chiefs team. Might be a couple of controversial selections but I stand by my selections.